What would be a BBQ without delicious, classic BBQ sauce on a side? There are plenty of homemade BBQ sauce recipes out there, but ultimately this is the one that we fell in love with. The BBQ sauce we are talking about is classic, flavourful, and delicate at the same time. It goes well with any type of meat — just a divine creation.
This classic BBQ sauce makes a delicious side to any BBQ meat, or you can use it as a coating for it. The layer of sauce would be applied during the last stage of smoking over the meat, and as a result, it will caramelize which is so delicious! So if you are looking for a classic BBQ sauce that you would like to eat either with the BBQ meat or to treat BBQ meat to create this incredible caramelized coat, this is the right recipe for you!
I will be honest with you – we were never fans of store-bought BBQ sauces. They came to Germany from the USA, and we got to eat them mostly with meals from McDonald's, KFC and Burgerking. Now you understand why we never liked them in the first place. But in 2015, I bought my husband his first smoker along with Jonas Cramby Texas BBQ recipe book and the whole new world opened for us. That summer we smoked everything: chicken wings, pork knuckle, brisket, beef topside, salmon and trout. I also got involved in the process by making BBQ sauces, salads, bread rolls and tortillas.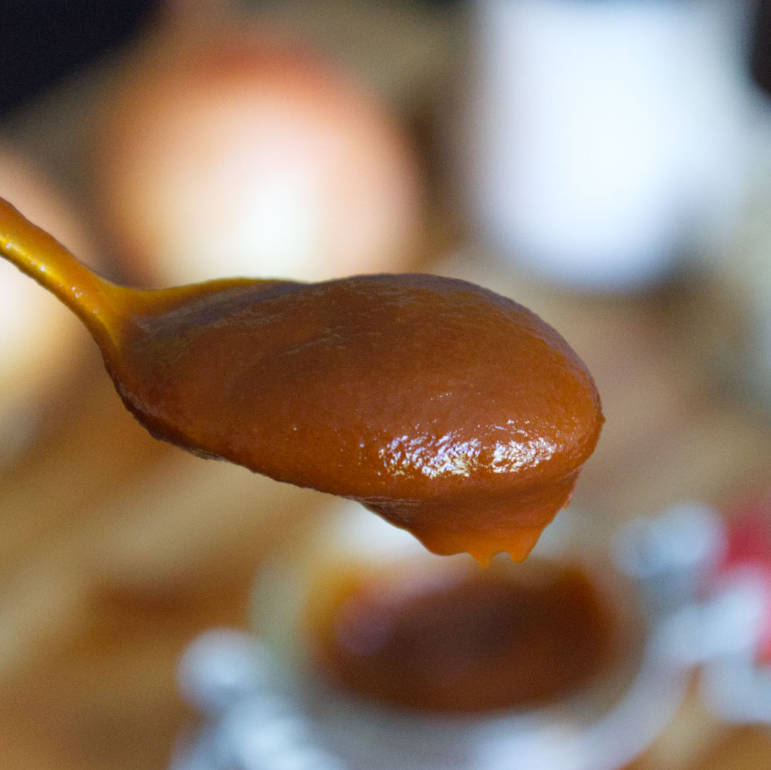 That was one of the best summers we have had – because we got to eat everything for the first time.
Since that time on, we have never eaten BBQ meats with store-bought BBQ sauces. This is this part of the dish that just has to be homemade. Evidently, we were impressed with the taste of the homemade once. But today we will be focusing on one of our favourites once, we call it my husband's classic BBQ sauce.
Classic BBQ sauce
My husband's classic BBQ sauce is nothing different than very well spiced sieved tomatoes. No artificial aroma, pure ingredients! The bases are the tomatoes and onions, but the real character gives it the other spices, like garlic, balsamic vinegar or Worcestershire sauce. Well combined, they create one of the most delicious sauces that exist – my husband's classic BBQ sauce.
To ensure that the BBQ sauce turns out as good as the one my husband makes, please make sure that you don't rush the cooking process. The ingredients need time to combine, and that can only happen when you give them the time.
But you won't be eating a sauce on its own, will you? I think that the sauce goes exceptionally well with the Smoked Beef Topside recipe. Here in Germany, this particular piece of meat is very popular, and we usually serve it cooked. I feel that the BBQ version is way better, though! For more inspiration, please go ahead and get inspired by scrolling trough our BBQ dishes page. There you can find not only those delicious BBQ meats but also our favourite sides!
I hope that I have convinced you to try to cook this delicious BBQ sauce on your own. If you have any question or a BBQ sauce recipe that you would like to share with us, please let uns know in the comments below!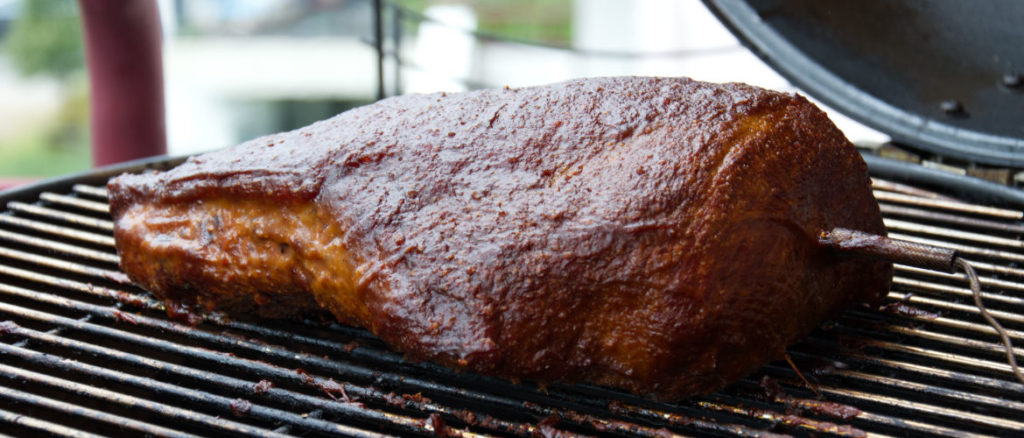 Why I love it so much?
– the recipe is straightforward
– it has a real character
– it goes well with any BBQ meat
The equipment we used:
– German Rösle Smoker
More BBQ Recipes:
Smoked beef topside
Pulled Pork
Smoked trout
Favorite BBQ Sides:
Classic Coleslaw
Feta & Watermelon Salad
Did you like our tips? Pin this post to your Pinterest Board to come back to it later!
My husband's classic BBQ sauce
The recipe is for 1l (1,8 fl. OZ. or 4,2 cups) BBQ sauce.
Ingredients
6

onions

10

tbsp

olive oil

30

garlic cloves

500

g

sieved tomatoes

5

tbsp

Worcestershire sauce

250

ml

soy sauce

250

ml

balsamic vinegar

160

g

sugar

depends on your taste
Instructions
Preheat the pan to medium and fry the onions in olive oil until translucent.

Slice garlic and add it to the pan. Stir and fry for another minute.

Add sieved tomatoes and Worcestershire sauce. Stir and let it simmer for 5 minutes.

After this add soy sauce, balsamic vinegar, and sugar and let it simmer for another 15-20 minutes.
Recipe Notes
Yes, 30 garlic cloves!
The recipe is for 1l (1,8 fl. OZ. or 4,2 cups) BBQ sauce.
If you are looking for a delicious meat recipe that goes well with this mouthwatering sauce please visit Smoked Beef Topside Recipe.