There are so many great things about summer! Somked Roast beef for example! The days are longer and warmer, there are no clouds on the sky and we can finally smoke on the campsite! For this smoking session my husband, Matthias, got this beautiful piece of meat: Roast Beef. Beef is one of our favourite meats to smoke, although let's be honest – everything that comes out of the smoker is extremely tasty.
Before you start smoking it's better to leave any fat on the outside of the roast, it will protect the meat and keep it juicy. Also, we would like you to use good quality ingredience for this recipe, you don't want this beautiful meat cut to have a poor taste because of low quality wrap or bbq sauce.
This time we wanted the piece of meat to be as tender as possible, therefore we decided to smoke the meat at 100°C. The lower the temperature in smoker is, the more tender the meat will turn. It took over 4 hours – but it was worth it! The meat was perfectly juicy and tender from inside and crispy from the outside.
After the roast is ready, we wrapped it in the foil and let it rest for 10 to 20 minutes before slicing.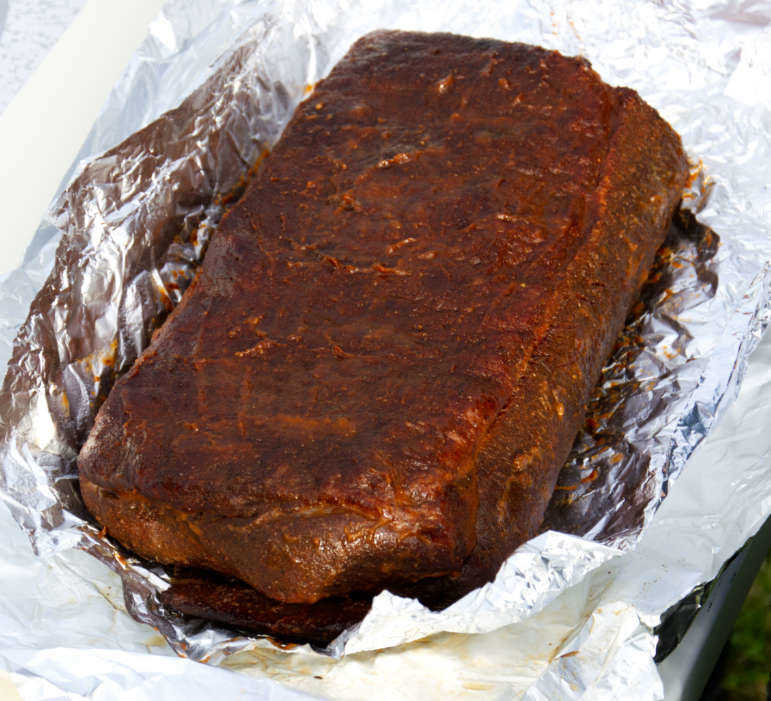 The lower the temperature is the more tender the meat.
One of the best ways to eat roast beef is to eat it with a sandwich. As soon as I have the photo of this beautiful sandwich I will post it here! In the meanwhile check the Smoked Warm Trout Recipe – for more smoking time!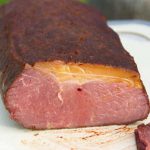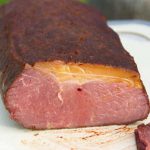 Smoked Roast Beef
Instructions
Prepare the rub
Prepare any rub you like, we went for classic texas rub for this recipe.
Preparing the meat
Remove sinews and skin from the beef cut, but leave the fat!

Cover the meat with the rub and let it rest for at least 12 hours, idealy 24 hours.
Smoking
Preheat the smoker to 110°C (215°F).

Our target temerature is between 62°C to 68°C degrees. The beef roast should be ready in 4 to 6 hours.

Make sure you keep the temperature constant, while you are driking your beer and wait for the roast to be ready:)

As soon as the roast ist ready, cover it with foil and let it rest for 20-30 minutes before you start cutting it.

Sprinkle your beef roast with some salt and enjoy it!