In this recipe, I will show you step-by-step how to make traditional Bavarian potato salad.
There are plenty German potato recipes out there, but the most important thing to remember is that we divide them into two main categories: German potato salads with mayo and German potato salad without mayo, so with oil and vinegar. Bavarian potato salad belongs to the second group, and if you have never tried potato salad without mayo, you will be impressed, I promise.
In the South part of Germany, we tent to make our potato salads without mayo, just with oil and vinegar dressing. In Northern Germany, they love adding mayo to it. I find both variations good and I prepare them, depending on the dish I am cooking.
To ensure that the Bavarian potato salad turns out extraordinary, please make sure that you:
– choose the right potatoes. The best potatoes to use are waxy potatoes, so those with less amount of starch because they are likely to keep their shape after being cooked
– combine all ingredients when they are still warm. Warm potatoes absorb the dressing better which gives them an excellent taste
– have enough dressing, so the potatoes don't soak all of it!
– set the potato salad aside for some time, but stir often so the ingredients combine well
Traditional Bavarian Potato Salad – Ingredients, Taste & Texture
The salad is moist; potatoes have a terrific taste because they soaked some of the dressing and onions and pickles give it extra taste and crunch. Bacon enhances the flavour and if you want, to have a fresh note you can also add chopped apple to it. Traditionally we make potato salad from jacket potatoes that we peel when still warm, slice and set aside. After the dressing has been cooked, we mix all ingredients well and set the salad aside so the potatoes can soak a bit of the dressing and the flavours will combine.
If you like herbs, you can add a bit of chive or parsley to it. This potato salad can be served warm, at room temperature or cold. For me, room temperature works just fine.
All traditional potato salads are exceptional and go well not only with meat but also fish. Bavarian Salad mainly goes exceptionally well with Veal Schnitzel, any kind of Bratwurst, but also Salmon. German potato salads without mayo go well with pork and any dishes that contain a good amount of fat. Potato salads with mayo you can serve with beef or chicken, so you have a right balance.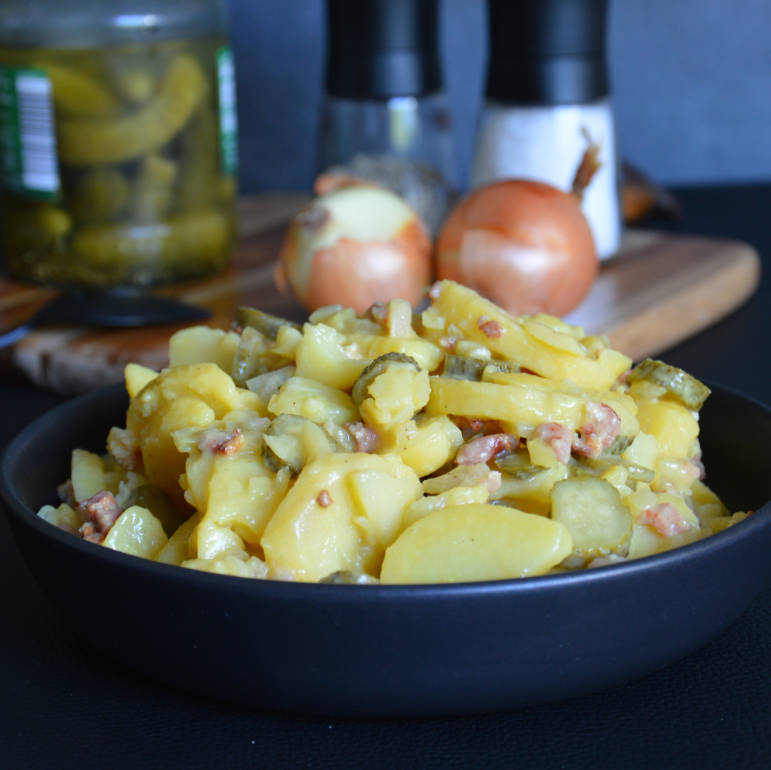 You can keep your potato salad up to 2-3 days in the fridge and it tastes best when it had few hours time to rest in the fridge before being served. Some dishes need a bit of time so the ingredients can combine well and that step very of makes a huge difference in taste!
Have you ever made any of the German potato salads before? If yes, what is your favourite one? If no, what are you waiting for?:)
If you are interested in more traditional German potato salad recipes please check our Swabian Potato Salad recipe.
More Potato Salad Recipes:
Swabian Potato Salad – German potato salad without mayo
Polish Potato Salad
More BBQ recipes
Traditional Coleslaw
BBQ Watermelon & Feta Salad
And if you would like to know what are the regional differences between all potato salads here in Germany I would like to encourage you to watch one of your latest videos: 3 German Potato Salad Varieties – South vs. North of Germany.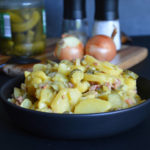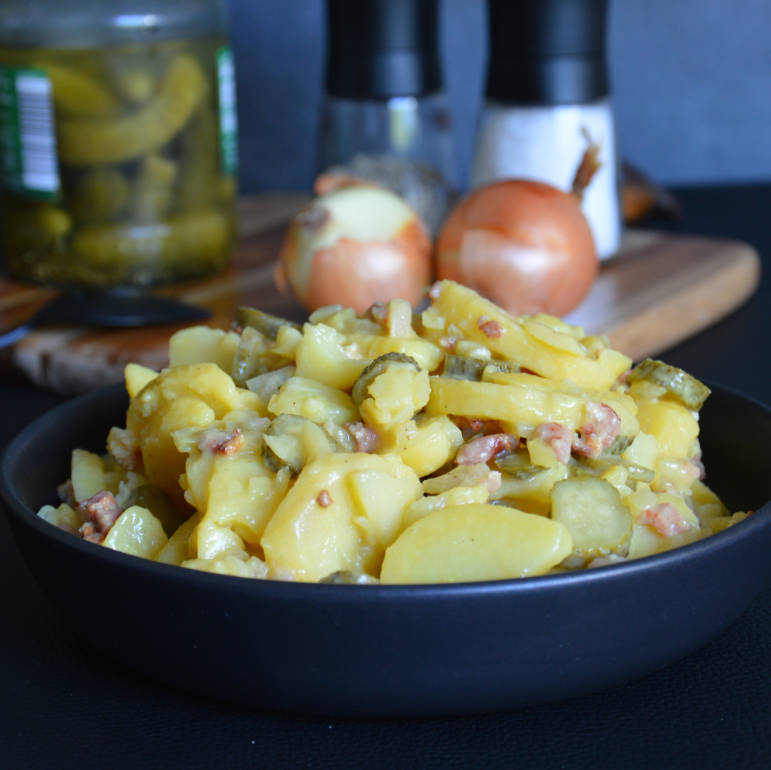 Bavarian Potato Salad with Oil & Vinegar
Traditional Bavarian Potato Salad with Oil, Vinegar & Borth Dressing can be served warm or cold and goes well with any meat or fish dishes!
Keep the salad in the fridge before serving.
3
hours
Ingredients
500

g

potatoes 

waxy

1/2

onion

medium

150

ml

beef broth

1

tbsp

white wine vinegar

1

tsp

sugar

1

tbsp

mustard

salt & pepper

2

tbsp

sunflower oil

nutmeg

70

g

pickles

75

g

bacon

smoked
Instructions
Cook jacket potatoes for 20-25 minutes (depending on size). Make sure the potatoes are tender, but not too soft, so they keep their shape when slicing.
Prepare the rest of the ingredients
Chop onions for the dressing.

Chop or slice the pickles.

Drain the cooked potatoes and let them cool down a bit, for 15 minutes.

Slice them into half cm wide slices.

Fry the bacon over medium heat for 3-5 minutes, until tender. Set aside.
Prepare the dressing
Heat up your broth in a small pot. When it starts to boil, turn the heat off, and add the onions, as well as white wine vinegar, sugar, mustard, salt and pepper. Set aside.
Make the salad
Pour the dressing over the potatoes.

Add sliced pickles and bacon. Mix well, cover and let it rest in the fridge for at least 3 hours.

Before serving add the oil and mix the salad well again.

Correct the seasoning. Add nutmeg if you like!
Recipe Notes
You can refrigerate the Bavarian Potato Salad up to 3 days.
Did you like our tips? Pin this post to your Pinterest Board to come back to it later! Or visit our Pinterest for more inspiration.