Today I will be sharing with you a unique recipe and that makes me very excited! Traditionally beef topside here in Germany is served boiled with potatoes and sauces. My husband and I came to an idea to smoke it and guess what? The meat was delicious! We think that smoked beef is the most underrated piece of meat of all. But we will change it. Hope you stick and see how we prepared it!
Beef topside – Video recipe
To make things easier for you, we have filmed the whole process and we would like to encourage you to watch the video – it explains everything!
Beef topside – Tafelspitz
Last weekend we have closed officially bbq season and we decided to prepare Smoked Beef Topside. It is a sad moment because we really loved all the recipes that we have tried this year. Smoker turned out to be the best gift that my husband could get. It really changed the idea of bbq in our home.
Choose the right meat
Today is all about Beef Topside. Beef Topside is where the tail originates (the top hind end of the cattle). While buying it you need to make sure that the piece of meat has a least 0,5cm fat on the top. It keeps the meat moist and gives a great aroma to the meat when it melts.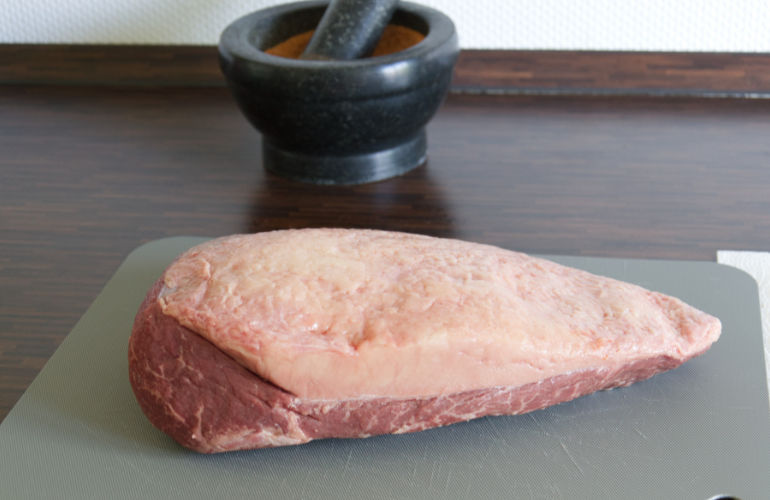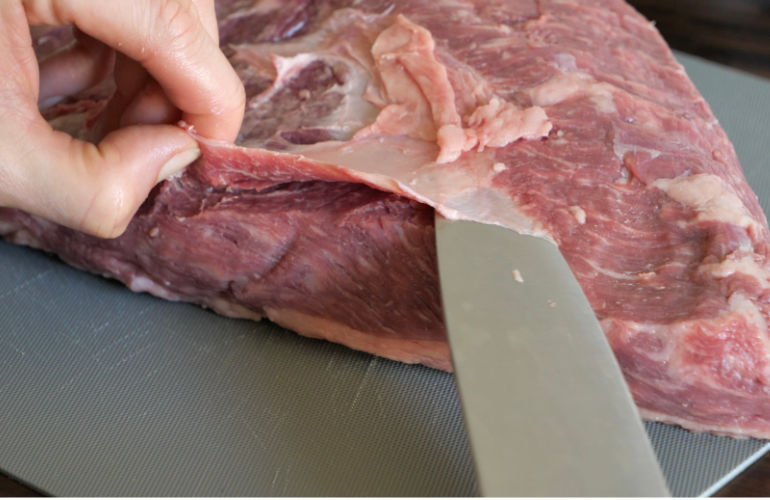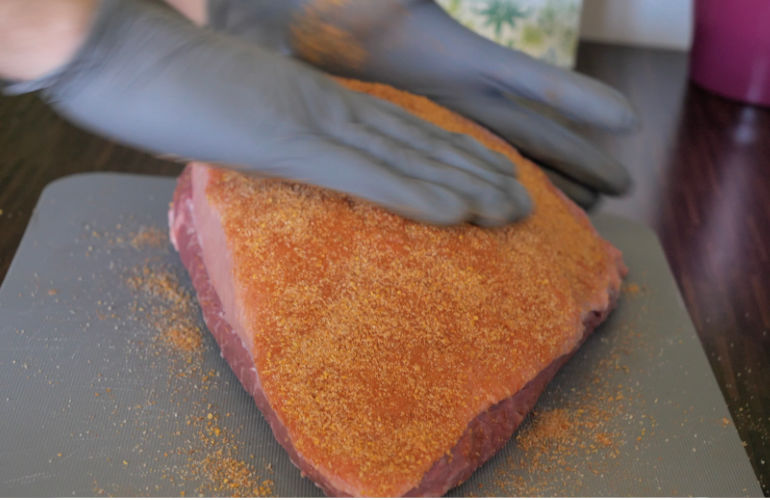 The surprise is that the Germans cook Beef Topside, instead of grilling it. Here it is one of the cheapest cuts. Well, I am not complaining, we get great meat quality for the cheaper price:) We have even eaten beef steaks made out of Beef Topside, but this is a story for another grilling season:)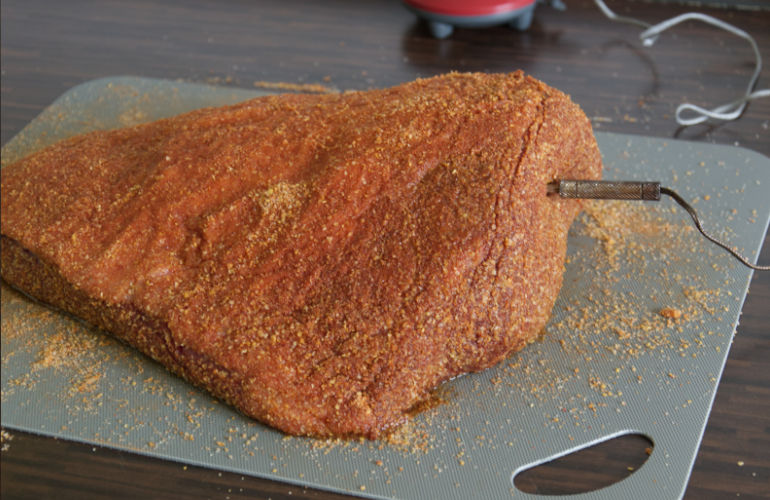 The Beef Topside has been the first beef cut that we made in our smoker. It turned out to be just delicious! It is done much faster then Pulled Pork, so for those of you who don't like spending the whole day smoking it's a great solution. It took around 2,5h for the meat to reach the proper temperature. The rub was just perfect, but if you like spicy though, you should put at least 3 pinches of cayenne pepper to the rub and you will love it!
As soon as the Beef Topside is ready we sliced it thinly and served it with the traditional Swabian Potato Salad and more of the Classic BBQ Sauce on the side. If that seems too much work, bread roll will do! An inseparable side dish to any smoked meat is Coleslaw, so don't forget to make some for the bbq party.
Classic BBQ sauce recipe
My husband's classic BBQ sauce
The recipe is for 1l (1,8 fl. OZ. or 4,2 cups) BBQ sauce.
Ingredients
6

onions

10

tbsp

olive oil

30

garlic cloves

500

g

sieved tomatoes

5

tbsp

Worcestershire sauce

250

ml

soy sauce

250

ml

balsamic vinegar

160

g

sugar

depends on your taste
Instructions
Preheat the pan to medium and fry the onions in olive oil until translucent.

Slice garlic and add it to the pan. Stir and fry for another minute.

Add sieved tomatoes and Worcestershire sauce. Stir and let it simmer for 5 minutes.

After this add soy sauce, balsamic vinegar, and sugar and let it simmer for another 15-20 minutes.
Recipe Notes
Yes, 30 garlic cloves!
The recipe is for 1l (1,8 fl. OZ. or 4,2 cups) BBQ sauce.
If you are looking for a delicious meat recipe that goes well with this mouthwatering sauce please visit Smoked Beef Topside Recipe.
Smoked Beef Topside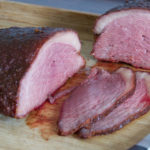 Smoked Beef Topside Recipe
In this recipe, we will who you how to smoke beef topside. For serving please buy some bread rolls or make a potato or noodle salad!
Cook Time
2
hours
30
minutes
Ingredients
Rub
15

g

mustard seeds

or 2 tbsp

25

g

sugar

white

30

g

salt

10

g

paprika powder

or 1 tbsp

5

g

pepper

white

10

g

garlic powder

or 1 tbsp

1

tsp

onion powder

optional
Meat & smoking
2

kg

beef topside

1

handful

chickory & cherry wood mix

soaked in water
To serve
bread rolls

potato salad

more BBQ sauce!:)
Instructions
Choose the meat
If you are smoking this piece of meat for the first time you want to make sure you choose a 2kg piece, that is covered from the top side with fat completely. The fat will keep the meat moist!
Prepare the meat
Remove tendons from the meat. There are likely a few tendons on the bottom part. But don't forget to keep the fat!
Rub
Grind mustard seed into powder. We are using mortar to accomplish this, you might use whatever you like.

Combine all rub ingredients.

Apply the rub to the surface of the meat until it's totally covered and let the meat rest covered in the refrigerator overnight. Use rubber gloves otherwise the rub will stick to your fingers instead of sticking to the meat.
Prepare the smoker for smoking
Soak the chickory and cherry wood in a bowl with cold water.

Using coal lighter prepare the coal

Add 4-5l of water to the water pan.

Wait until the smoker reaches 130°C (266°F).
Prepare BBQ Sauce by using the recipe above.
Smoking
Take the meat out of the fridge and let it come to room temperature 30 minutes before grilling/smoking it.

Insert the food/meat thermometer into the meat.

The smoking might take up to two or three hours, so open yourself a beer and have some patience!:)

Put the chickory wood into the smoker and place the meat on the grill rost.

Keep the smoker temperature by 110°C (230°F)

Wait until the meat temperature reaches 60°C (140°F).

Brush and turn the meat surface with the BBQ sauce until you cover it completely. Place it back to the rost and wait until the meat reaches 65-68°C (149-154°F).

Warp it in a foil and let it rest for 15 minutes. If you want the top to caramelize you can put it in the oven until the skin is crispy. But that would be too much of the good, wouldn't it?;)
Did you like our tips? Pin this post to your Pinterest Board to come back to it later! For more inspiration check out our Pinterest Account.