Today I wanted to share another very important dining exeriance: Recipe for traditional Moroccan Chickpea Stew. This dish has actully become our standard meal that week cook at least every two weeks. As you probably suspect – very less traditional dishes we can eat on daily basis. Why? Because the amount of calories they contain exeed human calorific requirement 🙂 Nord African cusine on the other hand is very simple and lower in calories.
I was very superised that this dish turned out to be not only good but really delicious. We decided to cook it regurarly. Just yesterday my husband said to me "We are so lucky that we found such great dish". I am also glad that we have tried the North Africn cousine, because the dishes are very different from that what we used to eat growing up in Europe.
This recipe is another recipe that we have tried not knowing how the dish actully suppose to taste – I hope we wont be dissappointed when we go to Morocco and try it there!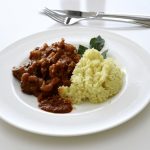 Maroccan Beef Stew
Ingredients
1

kg

beef

3

tbsp

flour

1

pinch

salt

1

pinch

pepper

2

tbsp

olive oil

1

tsp

paprika

0.5

tsp

corriander

ground

0.5

tsp

tumeric

ground

0.5

tsp

cumin

ground

0.5

tsp

ginger

ground

0.5

tsp

cayanne pepper

2

stalks

celery

chopped

1

onion

chopped

2

carrots

sliced

4

cloves

garlic

sliced

500

ml

beef stock

3

tomatoes

200

g

dried apricots

chopped
Instructions
Chop the beef into small pieces.

In one deep plate mix together salt, pepper and flour.

Dredge beef pieces into flour mixture.

Brown beef on preheated olive oil. Pour off excess drippings.

Combine the paprika, coriander, turmeric, cumin, ginger and cayenne.

Slice the garlic.

Add to the beef pot chopped celery, onion, carrot, garlic and sprinkle with the spices.

Pour beef broth. Bring it to a boil, reduce heat to low, cover and cook for 1h. If you are using pressure cooker cook it on high for 25 minutes.

Chop tomatos and apricots into small pieces.

Add to the stew and cook it for another 15 minutes.

Serve with couscous and harissa.