We love our potato dishes in Germany, and we serve them in many different ways. We love our boiled potatoes, jacket potatoes, mash potatoes, potato au gratin. As well as potato pancakes, potato soups and potato salads. And because potato salads are perfect sides for meat, fish and BBQ, today I would like to show you one of my favourite traditional potato salad recipes: Swabian potato salad.
Potato Salad – Regional Differences
The method of preparation, as well as the ingriendents, vary from region to region. In the South of Germany, we use stock, oil and vinegar to prepare the dressing. In the North, on the other hand, they use mayo, pickles or apples. In this recipe, we will be concentrating on potato salad made with no mayo. Trust me, after creating this recipe you won't be missing mayo in the potato salad again!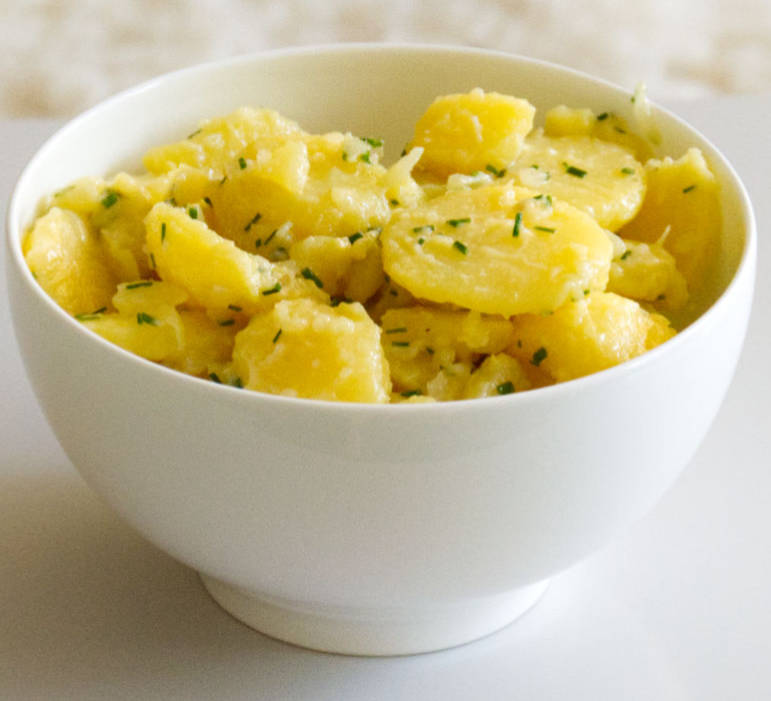 Choosing the right potatoes
Potato salads are often made from waxy potatoes, so I would encourage you to find those, as they are perfect ingredient for salads and gratins. They usually much more firm then the floury potatoes, that are perfect for preparing mash potatoes. The waxy potatoes have also very thin skin that makes the peeling task after cooking much easier.
After boiling and peeing the potatoes it is time for magic to happen: we prepare the dressing. The way of preparation of this dressing for swabian potato salad is unusual, because our dressing will be warm. After the dressing is done you will have to pour it all over sliced potatoes and let it rest in the fridge for at least one hour, so all the ingriedents get chance to mix.
You can serve the Swabian potato salad with any meat or sausage. My favorite would be the Frankfurter Würstchen thogh.
Now I would encourage you to go ahead and see the recipe below: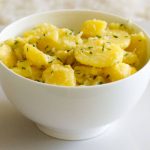 Swabian Potato Salad
Ingredients
500

g

potatoes

waxy

1

onion

medium

150

ml

broth

beef

1

tbsp

white wine vinegar

1

tsp

sugar

1

tbsp

mustard

salt

pepper

2

tbsp

oil

sunflower

nutmeg

optional
Instructions
Cook jacket potatoes for 15-20 minutes (depending on size). Make sure the potatoes are tender, but not too soft, so they keep their shape when slicing.

Drain the cooked potatoes and let them cool down a bit for 15 minutes. Peel the skin off and slice them into half cm wide slices.
Prepare your dressing
Heat up your broth in a small pot. When it starts to boil, turn the heat off, and add the onions, as well as white wine vinegar, sugar, mustard, salt and pepper.

Pour the dressing over the potatoes and let it rest in the fridge for at least 1 hour.

Before serving add the oil and mix the salad well.

Correct the seasoning. Add nutmeg if you like!
Recipe Notes
If you are making potato salad one day ahead I would prepare more dressing, as the potatoes will soak most of it.