I will be honest – I cannot imagine Christmas without this soup. This is by far my favorite Christmas starter! It is savoury and sweet at the same time, just delicious! I would like to invite you to check the recipe that has become my staple at Christmas time.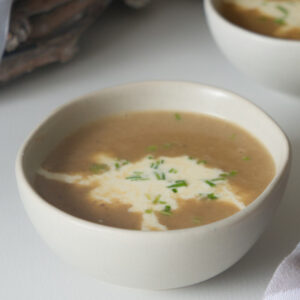 German Chestnut Soup
Ingredients
2

onions

100

g

butter

500

g

peeled chestnuts

750

ml

vegetable fond

300

ml

cream

125

ml

milk

salt

optional

sugar

optional

50

ml

whipped cream
Instructions
Chop finely the onions and cut the chestnuts into bigger chunks.

Melt the butter in a medium pot.

Fry the onions until translucent.

Add the chestnuts and fond. Let the soup simmer for 30min.

Blend it. Add milk and cream.

Season with salt and sugar.

Serve with a little whipped cream on top.
This very filly and aromatic soup is a perfect starter for any Christmas dinner. With few ingredients you can cook something exceptional that will taste like in a 5* restaurant. You can make the soup ahead of time and freeze it, so you can enjoy more time with your family at Christmas.
Until 5 years ago my and my husband always enjoyed this delicious and creamy dried mushroom soup at the Christmas time. At some point I wanted to try something new and that's how I found this recipe. Warm chestnuts here in Germany are associated with Christmas Markets so I thought that would be nice to make something different out of them. German restaurants enjoy this vegetable in many different ways, but as soon as I tried the chestnut soup, I fell in love with it. So this is how we have been eating our chestnuts for the past 5 years!
Ingredients & Substitutes
Chestnuts – in Germany we can buy already peeled, vacuumed chestnuts. Cooking and peeling chestnuts is very time consuming so if you can buy already cooked and peeled chestnut I would recommend to do so
Onions – I am using large yellow onions

Butter – unsalted butter (because there is nothing better like buttery soup!)

Vegetable fond or water – I strongly recommend using vegetable fond or broth, if you don't have a fond

Whipped cream – unsweetened, to serve as a garnish

Tools that might come in handy
You can store the soup up to 3 days in the fridge.
You can store the soup up to 6 months in the freezer. That means that you can cook your Christmas starter in June already;) Just kidding.
Reheating is straightforward. You can put the container or bag from the freezer to the fridge over night and then reheat it in the pot. Or you can put frozen product directly into the pot and reheat it over low heat. That would take around 20-30 minutes.
White Asparagus & Strawberry Soup
Are you wondering how to make your white asparagus soup more fancy?! Here is how!
Check out this recipe