Zwiebelrostbraten is one of the most delicious meals that you can find in Germany. The variation I will be making today comes from Allgäu and it consists of wonderfully grilled rump steak, cheese spätzle, fresh fried onions, and rich wine sauce. Does it sound delicious? If yes, please keep on reading!

If you want to make exceptional Zwiebelrostbraten I would encourage you to make everything from scratch. Spätzle and fried onions can be made ahead of time. Spätzle can be stored in a fridge up ta o 3 days and in freezer up to 6 months. Fried onions if stored in an airtight container stay nice and crispy for at least 2 weeks. The wonderful gravy and steak need to be prepared right before serving the meal.
This year we decided to try Zwiebelrostbraten in different restaurants in Southern Germany to find the best Zwiebelrostbraten there is! We have discovered that traditional Zwiebelrostbraten can be served with different sides and ingredients. Some restaurants serve it with onion gravy and some with roast gravy and fried onions on top. Some restaurants serve Käsespätzle (German cheese noodles), other Krautspatzen (German Spätzle with Sauerkraut). Options are endless, but for us, the best Zwiebelrostbraten contains homemade roast gravy, crispy onion rings, and cheese Spätzle.
Tools that I recommend for this recipe
Zwiebelrostbraten side dishes:
My Favorite Cheese Spätzle Recipe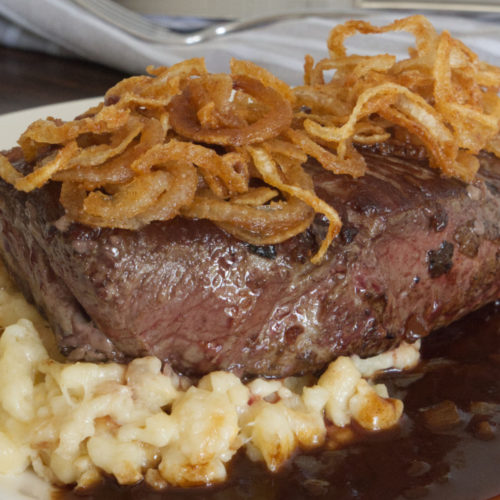 Traditional Allgäuer Zwiebelrostbraten
Zwiebelrostbraten is one of the most significant German dishes. Fresh fried onions along with steak and Cheese Spätzle go incredibly well together and satisfy the most demanding taste buds! I would encourage you to make also the side dishes from scratch because those make the dish!
Ingredients
Fried onions
500

ml

sunflower oil

4

small onions

2

tbsp

all-purpose flour

1

tbsp

paprika powder

salt
Zwiebelrostbraten
2

tbsp

clarified butter

2

rump steaks

3 cm (1,2 inch) thick

2

tbsp

butter

1

onion

1 tbsp

tomato puree

200

ml

dry red wine

300

ml

beef fond

Mondamin

salt, pepper, sugar
Instructions
Prepare the fried onions
Preheat the sunflower oil in a small pot to 170°C (338°F) . Make sure that the temperature doesn't rise.

In the meantime cut the onions into thin slices.

Mix flour and paprika powder in a small bowl.

Right before frying, mix the onion rings with the flour paprika powder mixture.

Fry the onions until golden brown (for 2-3 minutes).
Prepare Zwiebelrostbraten
Preheat the oven to 100°C (212°F)

Take a cast iron skillet and let the clarified butter melt on high heat.

Fry the steak from each side for 1 minute. Don't forget about the sides!

Take the meat out and put it in the oven for 20 minutes.
Prepare the sauce
In the meantime melt the butter in the same skillet and chop the onion.

Fry the onion until golden brown.

Add the tomato puree and cook them for 2 minutes.

Add wine and let it cook on medium heat for another 2-3 minutes.

Add beef fond and let the sauce simmer for around 10 minutes.

If you like thick sauces add mondamin or a flour-water mixture to thicken the sauce.

Season the sauce with salt, pepper, and sugar, if necessary.
Notes
If you would like to see a short video of this recipe please click below.
As a side dish for this amazing dish, I would love to encourage you to serve cheese spätzle. My favorite cheese spätzle recipe you will find here:
Creamy Cheese Spätzle Recipe.