The first time when I had German green pea soup was at the Frankfurt Christmas market. Each year at least one vendor is selling traditional German soups. This is such a great idea, especially when it is cold outside! This afternoon I craved something healthy, filly and warm. And there it was – smooth or somewhat velvety German green pea soup.
Green pea soup can be served on many different occasions. It goes very well as a light starter, but it can also replace the main course if served with Frankfurt sausage! The soup is cheap, easy to make, and it takes only 15 minutes of active time to prepare the whole pot!
German Green Pea Soup
Green peas and potatoes are the main ingredients of this delicious soup. The most important step while preparing the soup is to fry the potato cubes in oil on medium-low heat, so they develop the right flavours. The secret ingrained in my soup is the cream cheese because it binds all remaining ingredients together. I am aware that in many dishes, the cream is unreplaceable, but in a soup, it doesn't bother me at all. I think that it gives the soup extra flavour, makes it lighter, thicker and smoother. All that you are looking for in a bowl of soup in the middle of the winter.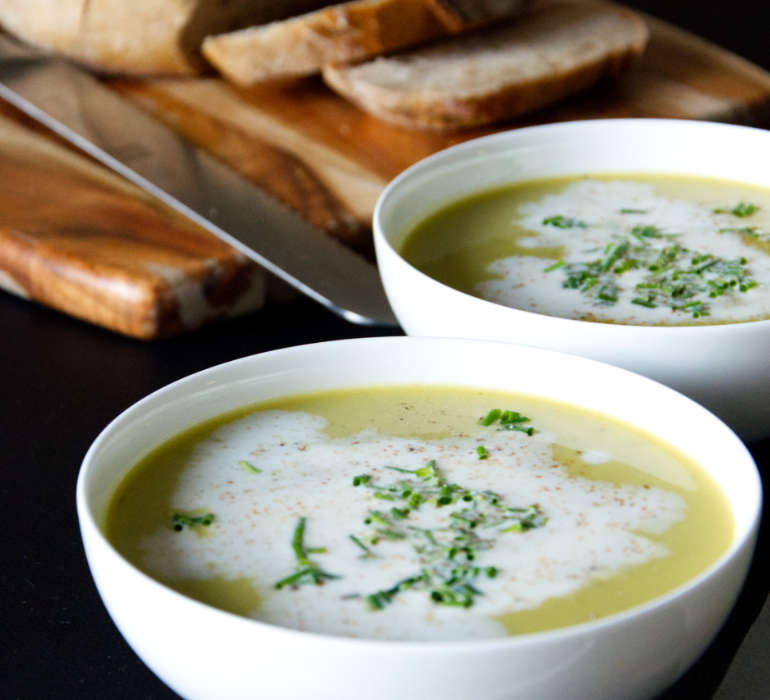 I love serving the dish with either Frankfurt sausage or just plain bread on the side. For garnish, I usually use my favourite chives! But I am pretty sure that you can also use parsley instead. I would stick to herbs traditionally available in Germany, at last, is a German soup. I hope that I have inspired you to try this simple recipe. Let me know how it turned out. Did you have to make any adjustments to my recipe? I am curious what you make out of it!
Why I love it so much?
– it's smooth!
– one-pot dish = less dishwashing!
Equipment I used:
– flexible chopping boards
– sharp knife
– pot
More One-Pot Recipes:
Traditional Polish Cabbage Stew Recipe
Polish Bean Soup Recipe
More Easy Recipes:
Swabian Potato Salad
German Poor Knights
Traditional Green Pea Soup
Ingredients
750

g

frozen peas

300

g

potatoes

2

oil

1

l

vegetable stock

150

g

cream

or cream cheese

salt

pepper

marjoram

horseradish

chives
Instructions
Peel and cut potatoes into smaller pieces.

Take a large pot and heat up oil in it. Add potatoes and fry them on medium-low heat for about 3 minutes. Keep on stirring!

Take a handful of green peas from the bag and add the rest to the pot, pour the broth and cook for 20 minutes – until potatoes are tender.

Blend the soup and season.

At least add cream cheese and correct seasoning.

Serve as a starter with chives on the top.
Did you like our tips? Pin this post to your Pinterest Board to come back to it later!