As a home cook, if you are not buying asparagus right now, you are doing something wrong – like Adam Rapoport from Bon Appétit wrote in his recent newsletter, asparagus is a vegetable that tastes extraordinary in late spring and early summer months! In almost every German restaurant you will find variations of different dishes that contain asparagus. On the menus, you can find classic asparagus dishes like white asparagus with cooked potatoes, ham and sauce hollandaise, white asparagus soup or white asparagus and strawberry salad. The recipe I am sharing with you today is rare and for that reason exceptional: White asparagus and strawberry soup.
At the beginning of March, I went with my husband on a cruise in the Persian Gulf. The goal of this trip was to discover Middle Eastern cuisine and purchase some spices that are typical for this region. Our cruise ship had a wide range of culinary specialities to offer. Gourmet-Restaurant Rossini was one of the restaurants we craved to dine in. On this evening we booked the table. The restaurant prepared special 5-course dinner and white asparagus & strawberry soup was a part of it.

We were curious how the soup will turn out, as we have never eaten something similar. Usually we tent to go for those classic dishes, they are always delicious and after all! You can only enjoy them only this time of a year. We were astonished how delightful the taste of this dish was. The soup had a silky consistency and light pink color. As soon as we tried it, we knew that we would have to try to make it when we are back home.
White asparagus & strawberry
Once the white asparagus and strawberry season started in Germany, we bought necessarily ingredients, and I tried to cook it. As a base we made the classic white asparagus soup. I puree the strawberries and removed the seeds, to make the whole thing smooth. Soon after I was adding the puree to the soup, spoon by spoon, to find out what the right white asparagus soup and strawberry ratio would be. Although this task might seem simple, I struggled. The first time when I prepared this soup, I added so much of the strawberry puree that we couldn't taste white asparagus. It's because I like strawberry so much! At this point, I knew immediately that next time, I would need to be extra careful if I don't want to kill the delicate taste of white asparagus.
The second time when I tried making this soup, the dish turned out much better. I still think that the taste of the soup depends on how sweet your base white asparagus soup (we are using wine and sugar to make it) is and how to the strawberries are. Therefore I would suggest to add the strawberry puree spoon by spoon and tasting it each time. The white asparagus and strawberry ratio that I found the most applying to my taste you will find the recipe below.
Saisonal ingredients
If you are a fan of cooking either traditional or seasonal please go ahead and read my other favourite recipes for this season: Wild Garlic Soup & White Asparagus Salad with Ham. If you wonder how to prepare classic German White Asparagus Soup to watch the video recipe: 2 ways to cook white asparagus.
Traditional German White Asparagus Cream Soup Recipe
Ingredients
Roux
180

gram

butter

150

gram

flour

all-purpose

3

liter

white asparagus stock
Spieces/Garnish
1

tablespoon

salt

or how much you like

0,5

teaspoon

black pepper

sugar

white, optional

wine

white, optional

3

tablespoons

chives

chopped

200

mililiter

cream

whipped

250

gram

white asparagus

cut into 1 cm cubes
Instructions
Prepare the white roux
Take large pot (where you can put all the liquid), melt butter on medium heat.

Add flour and stir vigorously while it bubbles. Cook for about 5 minutes over medium heat.
Make a soup
Turn heat to low and add a little bit of the white asparagus stock very slowly. While adding the white asparagus stock continue stirring.

As soon as you have added more the 1/3 of the white asparagus stock, you can pour the rest of it inside the pan and wait unill the soup start cooking. Make sure you stir the soup every 1-2- minutes.

Season the soup with salt and pepper. You can add sugar and wine, if you would like to.

Place 1 tablespoon white asparagus cubes in the bowl and pour 200-300ml soup over it.

Serve hot. Garnish with whipped cream and chives.

You can keep the soup in the fridge for 3 days or freeze it.
Recipe Notes
The prepare white asparagus stock you need to cook 1kg of white asparagus for about 10 minutes in 3l boiling water. If you cook the white asparagus too long, it might get bitter, so be careful with that!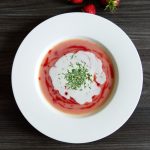 White Asparagus & Strawberry Soup
Are you wondering how to make your white asparagus soup more fancy?! Here is how!
Ingredients
200

g

strawberries

fresh

3

l

classic white asparagus soup
Instructions
Wash you stawberries and blend them.

Use the strainer to remove the strawberry seeds.

Add 100g of strawberry puree to your soup, stir it and try it. The challenge here is to make sure that you can taste both ingridients.

Using spoon add little by little the rest of strawberries, each time tasting if the soup still taste like white sparagus strawberry soup! The strawberries are much stronger in taste, you don't want to add too much of them, otherwise it would turn to strawberry soup!

If your strawberries were more on the sour side you might add sugar to balance the sourness.

Serve warm! Keep the soup up to 3 days in the fridge or freeze it!