Traditional German Cheese Noodles are the perfect Mac and Cheese. The noodles are soft and buttery combined with strong-flavor cheeses and cream for the perfect texture. Fried onions on the top complete the dish perfectly.
I will be honest with you, traditional German cheese noodles won't be the easiest dish to make. Making Spätzle can be a little difficult because the Dough is very sticky. But if you are like me, you like challenges, and trust me, there is nothing about this recipe that can go wrong. I hope I gave you a little bit of courage to try it.
Tools I recommend for this recipe
For this recipe, the most important thing that we will need is Spätzlehobel. Spätzlehobel makes the recipe much easier, so if you can borrow it from somewhere, it will be time-saving.
The word Spätzle is a plural form of "Spatz" which means "sparrow". The geographic origin of "little sparrows" is not known – the first time they were mentioned in 1725. Today they are considered a Swabian specialty. In Allgäu (a region at the Swabian-Bavarian border) they prepared it with different kinds of cheeses from the Alps. I have eaten many German cheese noodles and for me, the best recipe includes German Bergkäse,  Remoudou, and Edam cheese. If you don't like such strong flavors you can use any cheese you like.
I don't remember when was the first time when I have eaten Spätzle, but I do remember this one time when my husband cook them for me and I didn't want to eat anything else for a week. This recipe is how he makes it – and trust me – he is the best at it.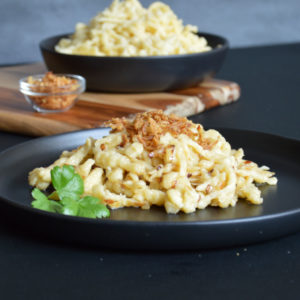 Käsespätzle
Ingredients
Dough
300

g

flour

100

ml

milk

3

eggs

1

pinch

salt

25

g

butter

melted
Frying
Instructions
Prepare the dough
The easiest way to make the dough for German Cheese Noodles is to use a kneading machine. Spätzle dough is rather sticky and will stick to your fingers otherwise. So take the large bowl from your kneading machine and mix together flour, milk, and eggs until smooth.

Add one pinch of salt and melted butter and mix the whole thing again. I mix them around 5 minutes to make sure they are all combined.
Make German Noodles
Take a large pot (I am using 5,5 l pot because is very large and my Spätzlehobel fits on the top of it well) and pour at least 3 l water in it. Add salt and bring the water to a boil.

Put an empty mixing bowl right next to the pot with boiling water. There you will place your dumplings as soon as they are ready.

Before placing the dough in the Spätzlehobel remember that the dough is very sticky and this is the most challenging part for me. For this task, I recommend using a dough scraper.

Cook until they rise to the surface (it takes 1-2 minutes). Drain well by using skimmer spoon and place them into the second bowl.

From this amount of dough you will need to repeat this process 4-5 times, depending on how much dough you can use at once in your Spätzlehobel.

If you would like to freeze them, now is the time to set them aside. It's better to freeze German Spätzle without the cheese sauce.
Make Cheese Spätzle
Take a large pan, melt the butter and fry the onion until translucent on the medium heat.

Grate the cheese and mix them together. If you don't like strong-tasting cheeses you can make your German Cheese Noodles with any cheese you like. This recipe comes from Allgäu, so some of the cheeses I use come from the German Alps.

Add cooked Spätzle and wait until they turn golden brown. Lower the heat, add cream and cheese and sauté for another 3-4 minutes.
Serving
Serve immediately with fried onion on the top.