In the past few years right in front of the town hall in Frankfurt there is a vendor who is selling delicious Jam-Filled Yeast Dumplings. Every year at least once we orderer them along with a cup of hot mulled wine.
Jam-Filled Yeast dumplings traditionally come from Austria (like many other delicious dumplings:)). The traditional variation would be filled with plum sauce, but I actually prefer them with sweet cherry filling. On the top you can either have them with vanilla sauce or butter and poppy seeds.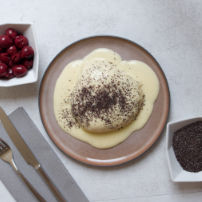 Jam-Filled Yeast Dumplings
Ingredients
Dough
65

ml

whole milk

20

g

yeast

fresh

1

tbsp

sugar

200

g

flour

white

1

pinch

salt

1

tbsp

sugar

15

g

butter

soft

1

egg
Cherry Sauce
3

tbsp

sour cherries

from a jar

100

ml

sour cherry juice

1

tbsp

starch
For Serving
200

g

vanilla sauce

4

tsp

poppy seeds
Instructions
Make the dough
In a large bowl mix flour, sugar, salt, eggs and soft butter. You can use hands or dough mixer until smooth.

Heat the milk to lukewarm (I am using 2 out of 10), add small crumbs of fresh yeast and sugar. Wisk until yeast dissolves. Remove from the heat immediately and mix the mixture very slowly with the flour mixture.

Form a dough form a bowl – if the dough is too sticky you can add 1 tbsp of flour to it. Cover the bowl with a kitchen towel and let it rest for at least 45 minutes.
Make the filling
Pour sour cherry juice into a casserole, add starch and sugar and mix it with a whisk until dissolves. Turn the heat to medium and wait until the sauce thickens. Add the cherries and set the sauce aside.
Make the dumplings
Flour the surface, roll the dough into a thick log and divide it into 4 equal pieces. Take each piece and form a circle. While holding the dough in our hand add 1 tbsp or cherry sauce mixture and fold the dough so the filling doesn't come out. Flip it around and form round dumplings.

When your dumplings are ready cover them with a kitchen towel and let them rest for 15 minutes.
Steam the dumplings
Transfer the dumplings into a steam basket and place it in a large pot filled with water (I am using 800ml). Bring it to boil, turn the temperature to medium (I am using 5 out of 10), close the lid and steam it for 15 minutes.
Serve
Serve with cold vanilla sauce and poppy seeds on the top.