White asparagus salad is extremely delicious! This white asparagus season I wanted to try new white asparagus dish. Every year I enjoy White Asparagus with Boiled Potatoes, Ham and Sauce Hollandaise or White Asparagus Soup, but I have never tried White Asparagus Salad. I think that is also my husband's fault because he believes that there is no way that white asparagus can go well with vinegar. But he is not right!
I found a recipe in which the dressing is not too dominant, and it does not overwhelm the dish. You can still taste this delicious white asparagus! The White Asparagus Salad can be served as a starter or with boiled potatoes as a main dish. It's light and easy to make, especially when you have some white asparagus left!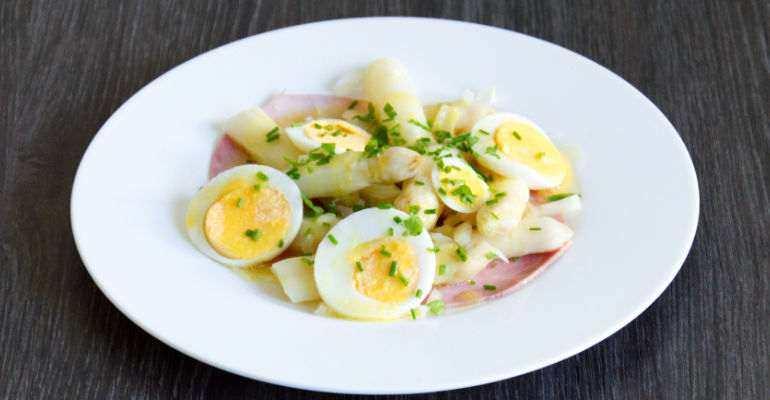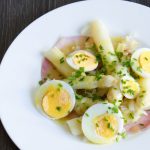 White Asparagus Salad
Ingredients
Prepare white asparagus
1,5

liter

water

1

tablespoon

sugar

1

tablespoon

salt

50

mililiter

white wine

250

gram

white asparagus heads
Dressing
2

tablespoons

oil

vegatable

1

tablespoon

white wine vigegar

1

teaspoon

sugar

white

0,5

onion

medium, very finly chopped

1

teaspoon

mustard

normal, not spicy
Garnish
2

slices

ham

cooked

1

teaspoon

parsey

fresh, chopped

1

teaspoon

chives

fresh, chopped
Instructions
Cook white asparagus
In the large pot pour the water and add salt, sugar, wine and, asparagus.

Bring it to boil and cook over medium-low heat for 8-10 minutes. Get it from the water and set aside.
Prepare the dressing
Take a medium bowl and add vinegar, salt, suga, and mustard in it. Combine the ingredients. Pour oil slowly over it making sure that the ingredients combine. At the end add onion and set aside.
Prepare the salat
Slice the eggs.

In the medium bowl mix very gently asparagus, eggs and, salad dressing.

Put the bowl in the fridge for at least 1 hour before serving.
Garnish
Take a small plate and put ham slice in the middle. Add very carefully few spoons of asparagus salad on the top. Garnish with fresh, chopped parsley and chives.