When you want to know which white asparagus dish is the most popular in white asparagus season in Germany, that is the one: White Asparagus with Boiled Potatoes, Ham and Sauce Hollandaise. I love white asparagus season here in Germany. Every good restaurant always sells a few white asparagus dishes. Very popular are also Creamy White Asparagus Soup and White Asparagus Salad.
White Asparagus with Boiled Potatoes and Ham is very easy to make. It's delicious! Boiled potatoes garnished with parsley, crunchy white asparagus go well together. Cooked ham and sauce hollandaise are not too dominant and therefore are the perfect ingredients to accompany this dish.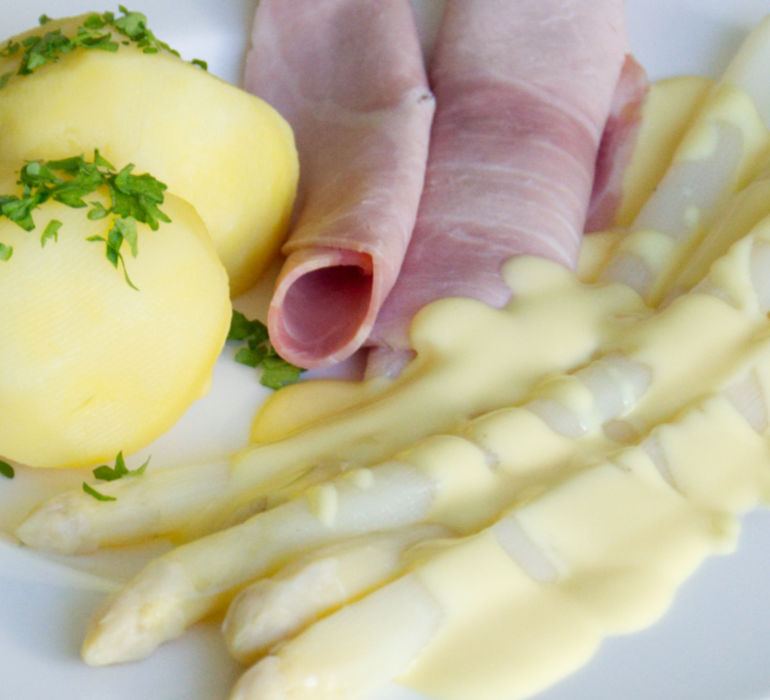 At first, preparing white asparagus might seem tricky, but in the end, it isn't. Here are some things that you need to keep in mind before you start cooking white asparagus.
Ultimate guide – German white asparagus
buy fresh, straight, white asparagus
keep asparagus before cooking max. 2 days in the fridge, wrapped in a wet towel
peel asparagus with a vegetable peeler to remove its fibrous and woody skin from the head to the bottom. I go sometimes 3 times around it
start peeling white asparagus below the head, peel toward the end Repeat until you have finished peeling the whole stalk
cut off the ends – at least 1-2 cm
check every single asparagus if there are no remaining fibres left
keep the peeled asparagus in a pot of water until you are ready to cook it – don't let it dry out!
white asparagus should be cooked in a high pot (similar to spaghetti pot) because that way it cooks evenly, but if you are a hobby cook as we are, you can use any large pot (I use my 5,5l Fissler with 26cm/10inches diameter) which has enough space for the asparagus to lie flat in the water
Traditional German White Asparagus with Boiled Potatoes and Ham Recipe
Equipment
Fissler Stainless Steel Duch Oven Pure-Profi Collection 
Ingredients
Potatoes
5-6

potatoes

medium

2

liter

water for potatoes

1

tablespoon

salt
Asparagus
3

liters

water for asparagus

1

kg

white asparagus

3

tablespoons

sugar

white

3

tablespoon

salt

100

mililiter

wine

white, sour, like Riesling or Silvaner
Finish
5-6

slices

ham

cooked

250

mililiter

sauce hollandaise

1

tablespoon

parsley

chopped
White asparagus soup
100

g

butter

100

g

flour

200

ml

cream
Instructions
Cook potatoes
In the medium pot place the potatoes and bring water to boil. Put 1 tablespoon of salt and cook the potatoes over low heat for 15-20 minutes or until done.
Prepare Sauce hollandaise
Cook or warm up your sauce hollandaise.
Cook asparagus
Wash white asparagus well with water.

Peel white asparagus. I go with my peeler sometimes 3 times from the head right to the bottom to keep sure I don't leave any wooden parts. Cut our the bottoms. Don't throw away the peel, you can make cream soup out of it!

Take a large pot (I use 5,1l, 26cm/10inches diameter Fissler Dutch Oven – because it fits the length of the asparagus) and pour water for asparagus in it. (The recipe video was created in the caravan, the pot there was a bit too small for while asparagus therefore we had to shorten it)

Add salt, wine and sugar to it and stir until sugar dissolves. Add asparagus and bring it to boil.

Cook asparagus over medium-low heat for 8-10 minutes. If you have thicker pieces it can take up to 12 minutes to be well cooked. Set aside.
Finish
On the large plate put cold, rolled ham slices, boiled potatoes and white asparagus.

Pour warm sauce hollandiase over asparagus.

Garnish with parsley.
Cook the soup
Take the pot with the asparagus broth and add the peel to it.

Bring it to boil and simmer for 15 minutes. Take the peel out of the pot.

Pour the broth from the pot into a large bowl and take the pot and heat it up to medium. Add butter, let it melt.

Add flour and stir to combine. Wait until the mixture boils. Keep on boiling and stirring for 3-4 minutes.

Add the asparagus broth with the ladle one-by-one and keep on stirring vigorously.

As soon as you added the whole thing ass cream, bring it to boil. At this point your soup is ready. You can store it in the fridge up to 3 days or freeze it if you wish.