Ratatouille is one of the most famous French dishes. The stew is made of fresh vegetables: zucchini, aubergine, tomatoes, onions and peppers. The name of the stew comes from verb "touiller" which means "to stir up". The dish was already mentioned in the 18th century.
There are many methods of preparation of this dish, I was lucky that I have found the perfect recipe already when I tried to cook this dish the first time.
The recipe below comes from the best book about french cooking "The Mastering of French Cooking" from Julia Child. This recipe is for those of you who like cooking and don't mind spending some time in the kitchen to prepare something that tastes just perfect. I was really excited to surprise my husband with this dish – who was actually not too amused when he has heard what I have prepared for him. He said that he doesn't like ratatouille much, so I was very curious what he will say about stew that I have prepared. It was the best ratatouille that he has ever eaten in his life. I was so relieved. The ratatouille he has eaten before had a lot of liquid, which is a sign that it was prepared in the wrong way. The most important thing, while cooking this dish is to fry the vegetables separately. It might take a while, but trust me on this – its worth it. If you want to avoid having vegetable soup instead of the traditional ratatouille you really need to follow Julia Childs instructions. In French cooking there are no shortcuts! Good food simply takes time.
I hope you will enjoy this recipe as much as we did. If that was your first time cooking ratatouille I am pretty sure you will not be searching for another recipe for the rest of your life.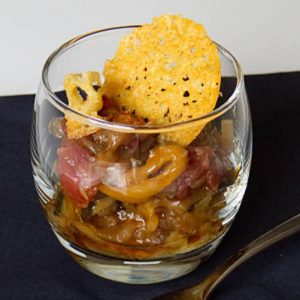 Julia Child's Ratatoulle
Ingredients
250

g

aubergine

250

g

zucchini

2

onions

finly sliced

2

peppers

sliced

2

garlic

cloves

500

g

tomatoes

3

tbl

parsley

olive oil

salt & pepper
Instructions
Peel aubergine and cut it into 1cm thick, 8cm long and 2,5cm wide slices. Cut zucchini the same way.

Place vegetable in a bowl and toss with salt. Let it stand for 30 minutes. After this dry each slice seperatly.

Fry aubergines and zuchini in hot olive oil one layer at a time. Each side for about 1 minute. Place the slices in a side dish.

In the same frying pan fry onions with peppers for 10 minutes on a low heat in olive oil. The vegetables should be tender but not borwn. Add garlic, salt and pepper to taste.

Slice tomatoes into 1 cm strips. Lay them over the onions and peppers, season with salt and pepper. Cover the frying pan and cook for about 5 minutes on low heat. Uncover, turn the heat up and wait until all juice evaporates.

Take 1/3 of tomato-onion mixture and place it in a casserole. Sprinkle 1 tbl of parslay over it. Arrange half of the aubergines and zucchinis over it and half of the remaining tomatos. Cover with 1 tbl of parsley. Put the rest of aubergines and zucchini and finish with tomatos and parsley.

Cover the casserole and simmer over low heat for 10 minutes. Uncover and cook on medium heat for another 15 minutes or untile the remaning juices evaporate.

Be careful about the heat. You dont want the veggetables to scorch at this point!

Serve warm or cold.