I just love cooking with Julia Child! Her book "The Mastery of the French Cooking" is the best cooking book I have ever had. The recipes are very detailed and funny. If you have been trying some new recipes you probably know, that 90% of the dishes just don't turn up like we imagine. This disappoints me every time because the photo of the meal looks just so great. With the recipes from Julia Child it is a different story. The cooking book doesn't have any photos, so you don't know what to expect. Therefore you are never disappointed. I am going to tell more – you are always amazed how delicious the dishes are!
Stuffed tomatoes are very easy to make. When you take them out of the oven they are crispy from the top but still moist inside. What a delicious combination!
The dish is vegetarian and it goes well with any kind of meat or fish. I prepared it for our bbq last summer and I cannot wait when we start the grilling season this summer!
I hope you will enjoy this recipe as much as we did!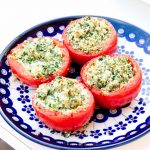 Tomates a la Provencale
Ingredients
4

tomatos

ripe, medium size

1-2

garlic clove

3

tbl

shallots

or spring onions

3

tbl

parsley

chopped

1/8

tsp

thyme

1/4

tsp

salt

50

ml

olive oil

40

g

bread crumbs
Instructions
Preheat the oven to 200 degrees.

Cut tomatoes crosswise and remove the stems.

Take out the seeds and juice from tomato halves and sprinkle with salt.

In the bowl mix the rest of the ingredients. Correct seasoning.

Fill each tomato half with 1-2 tbsp of the mixture.

Place the tomato in the roasting tin and bake for 10-15 minutes. Tomatoes are ready when they are tender and the bread crumbs browned lightly.