Bircher Müsli is pretty popular here in Germany. Everybody knows it's a healthy way to start a day. But this never convinced me to try it. I love my morning porridge and I wasn't going to change my routine until I got to Switzerland. While being in a foreign country I always try to eat like people around me, so one morning I decided to go for bircher müsli. That was seriously the best müsli I have eaten, so I decided to try it with other ingredients. That was a discovery of the autumn for me! As soon as I could I started tasting some of the recipes to find the perfect balance between ingredients.
But before we start preparing I wanted to give you a short overview why Bircher Müsli exists. The recipe was developed for Bircher sanatorium patients to improve their digestion. The original recipe contained apples, yoghurt, oatmeal (just a little), sweetened condensed milk, ground nuts and lemon juice. Not too healthy… I would say 🙂 but I am sure it tasted delicious with the sweetened condensed milk. Oh, this reminds me of my grandmother coffee.
And here they are, the 3 Bircher Müsli that made to my morning routine. If you looking for a better way to start the day: THIS IS IT 🙂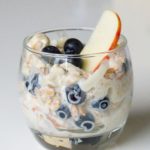 Bircher Müsli
Ingredients
Müsli Base
40

g

oatmeal

70

ml

milk

15

ml

apple juice

0,5

apple

chopped into small pieces

5

ml

lemon juice
OPTION 1: Peach Müsli
50

g

yorhurt

1

peach

chopped into small pieces

10

g

raisins

10

g

haselnut

ground
OPTION 2: Berry Müsli
50

g

yorhurt

20

g

blueberries

20

g

raspberries

10

g

sunflower seeds/cashew nuts
OPTION 3: Banana Mouse Müsli
50

g

yoghurt

1

kiwi

chopped into small pieces

10

g

walnuts
Instructions
Place the oatmeal in a bowl, pour the milk over it and leave it over night in the fridge. If you are using raisins in your meal you can add them at this stage. Overnight they get soft and taste just better!
OPTION 1 & 2
Next morning add yoghurt, juices, chopped fruits and nuts. Mix all well and enjoy!
Blend banana and yoghurt until creamy and smooth.

Add juices, chopped fruits and nuts. Mix all well and enjoy!

Use honey or sugar if you like your müsli sweeter!