In this recipe I would like to show you step-by-step how to make traditional Austrian Spinatknödel with Parmesan.
Every year we spent our summer holidays in the German Alps in a region called Allgäu, right next to the German-Austrian border. We love to hike so each time we choose to climb one of the mountains in this beautiful area. This year we choose Aggenstein.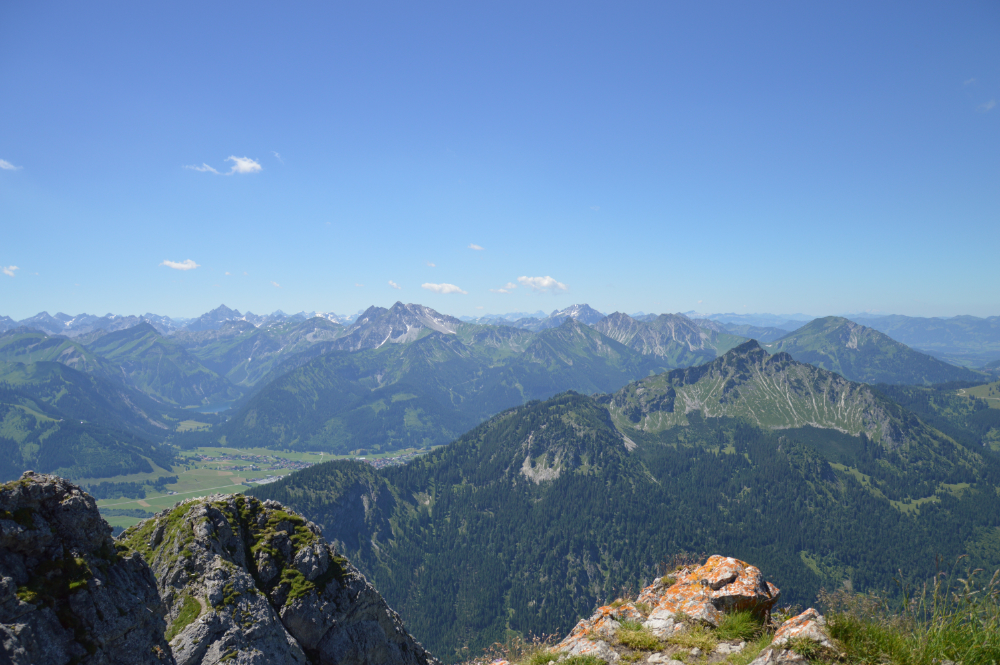 Although the hike was tiring and long (the mountain is 1,986 metres high), it was one of the most beautiful hikes we ever had. On the last station before climbing the mountain top we decided to take a break and have a coke and a bite in the alpine pasture (I only allow myself to drink coke while hiking in the mountains!).
The alpine pasture (Bad Kissinger Hütte) was located on the Austrian side so we could find Austrian dishes on the menu, which always makes us extremely happy. If you ever had a meal in the mountains, you know what I mean. There is nothing better than to eat in the sun outside with those beautiful views and peace. No cars – just you and nature.
This time we really wanted to try traditional Austrian Speckknödel and Spinatknödel. And we weren't disappointed – both were beyond delicious! Austrians make those mouth-watering bread dumplings usually from left-overs or when they don't know what to cook for the family. They are quick to make and you only need a few ingredients to make them. Served with lots of butter and parmesan cheese they are a real treat!
I would certainly recommend trying them while on your holiday in Tirol or just cooking them on your own in case you don't have any idea what to put today on the table!
How to make traditional Austrian Spinatknödel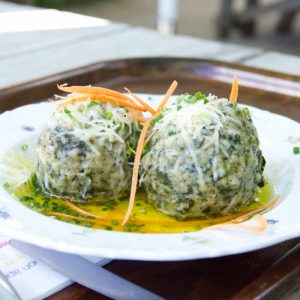 Traditional Spinatknödel
Ingredients
300

g

spinach

frozen

30

g

butter

2

onions

very finly chopped

4

old bread rolls

wheat

125

g

milk

warm

salt and nuttmeg

1

egg

1

garlic clove

chopped

50

g

parmesan

to serve

2

tbsp

chives

to serve

50

g

brown butter

to serve
Instructions
Make the dough
Take the spinach out of the freezer.

Fry the chopped onions on the medium heat until golden brown. Don't rush it! The slower you fry them the better they taste!:)

Cut the bread rolls into cubes and put them into large bowl.

Heat up the milk until warm, pour it over them and season the mixture with salt and nutmeg.

Add eggs and make a dough with your hands until the ingredients combine. Set aside for 15 minutes. Add the spinach.

Add chopped garlic to the fried onions and fry them on the medium heat for about 2-3 minutes. Add the onion mixture to a large bowl and mix all ingredients well.

Set aside for 20 minutes, before you start forming the dumplings.
Form the dumplings
After 30 minutes check if you are able to form small (as big as a table tennis ball) dumplings out of the dough.

If the dough is too hard: add a little more milk. If the though is too soft, add more bread rolls/bread crumbs. If the dough doesn't stick together you may need to add another egg.

It is easier to form the bread dumplings with wet hands – just saying;)
Cook the dumplings
Set a large pot with salty water and wait until boils. Lower the heat.

In the meantime form the dumplings and simmer them in a pot without a lead for 15-20 minutes. Make sure that the water doesn't boil, just simmers!

Grate the parmesan, chop the chives and brown the butter.

Serve warm with brown butter and grated parmesan on the top!
Did you like our tips? Pin this post to your Pinterest Board to come back to it later!