The first time i have tried Kaiserschmarrn was on my first holiday with my husband. I remember that he invited me to spend holiday together just after one month of dating. We went to Allgäu and we have visited Austria. He took me to this restaurant on the country side, where I could watch the cows which was very cool! And then we have ordered. Matthias was waiting for some Austrian dumplings and he made me order Kaiserschmarrn which is sweet dish. I was a little jealous because I really like eating something savory, it doesn't matter if it's for breakfast, lunch or dinner. When the dishes arrived and I have seen my Kaiserschmarrn I wasn't jealous anymore: I had in front of myself huge plate with beautifully prepared dough with raisins, apple sauce and vanilla ice cream. I wanted to get a perfect recipe for this dish ever since.
2 years later we had a pleasure to welcome an Austrian girl as our door to door neighbor – Sabrina. Once she invited us for dinner and she make Kaiserschmarrn as a desert. It was very delicious and I was really jumping from happiness when I got this recipe from her.
If you try this recipe, you won't be trying any other one ever again!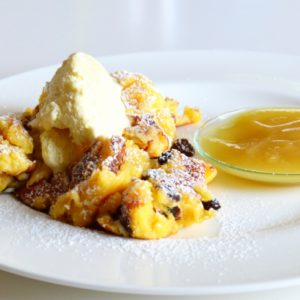 Traditional Austrian Kaiserschmarrn
Ingredients
200

ml

sour cream

5

eggs

5

tbsp

sugar

white

8

tbsp

flour

2-3

handful

raisins

soaked in STROH over night

4

tbsp

butter

for frying

plum preserves or apple sauce

vanilla ice cream

optional
Instructions
Preheat the oven to 180 degrees.

Mix eggs and sour cream in a large bowl.

Add sugar, flour and raisins to the mixture and stir until all ingredients combine well.

Take a large non-stick pan (make sure the pan can go to the oven!!) and fry the mixture on butter on very low heat (3 out of 10) from both sides. Each side about 5 minutes.

Take the Kaiserschmarrn of the heat and if you like the dessert extra sweet and crispy cover it with a thin layer of powdered sugar. After this put the pan in the oven and bake the mixture in oven until done (another 8-10 minutes). Do not use any lid.

Remove the pan from the oven and but the mixture into 3-4cm long pieces. Add another layer of powdered sugar and place plum preserves or apple sauce on the side. Ice cream go also very well with this dish!