Everything that I want on autumn Sunday morning is a fluffy toast, layered with freshly made plum mousse that melts in one's mouth. I love putting this extra afford to make my breakfast during the weekends exceptional. By this, I mean extraordinary, not time-consuming.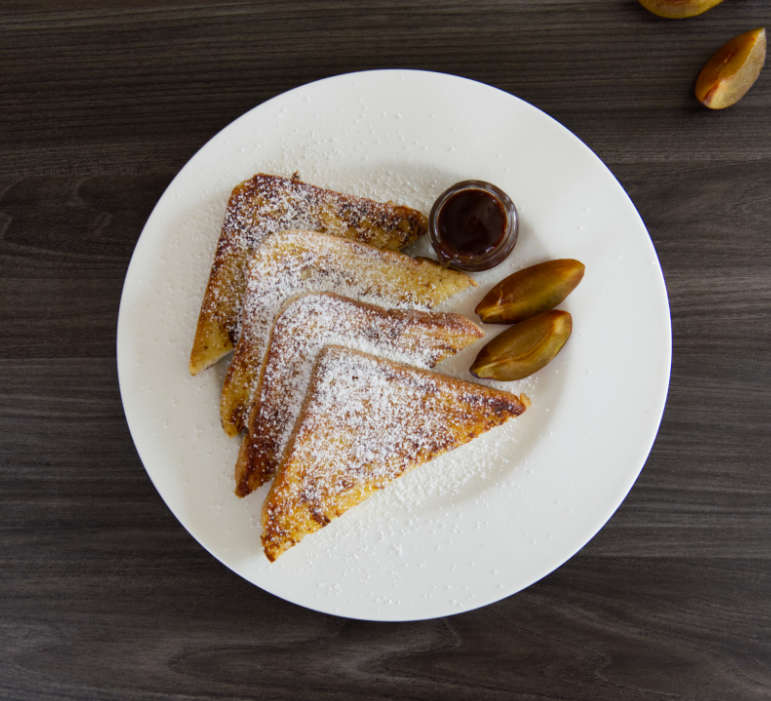 I am a big fan of simple and delicious meals. Who isn't? Thankfully, many traditional dishes, like German poor knights, rely upon simple ingredients and are quick to prepare.
The poor knights recipe came to Germany from the Holy Roman Empire. Throughout Europe, there were many different variations of this dish. The base for all was pretty much the same: stale bread, egg, milk, sugar and lots of butter. Spanish soaked their bread in white or dessert wine, as well as liquor. Portuguese poured it with a sugar-cinnamon-Porto wine sauce. Here in Germany, the most common way is to serve them, is with plum mousse or vanilla sauce on the side. Both complete the dish excellently.
Well prepared poor knights have to be fluffy and soft from inside and crispy from outside.
To achieve this perfect consistency, you need to make sure that you soak the whole piece of bread from both sides in the egg-milk-sugar mixture. For cooking, use medium-low heat and the right amount of butter to get the perfect, even crisp.
At last, you can use some paper towels to remove the excess fat and serve your knights with a sauce of your choice. When autumn is in full swing, I would recommend using plum mousse though! In another time of a year, I would go for seasonal fruits and vanilla sauce.
What is your favourite german poor knights toping? Please share your ideas in the comments section!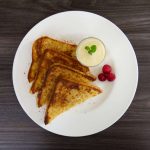 Traditional German Poor Knights Recipe
Ingredients
1

egg

140

g

milk

1

tbsp

agave syrup

or honey, or sugar

4

slices toast bread

or stale bread

40

g

butter

1

pinch of

cinnamon

vanilla sauce & extra cinnamon

optional

plum mousse & powdered sugar

optional
Instructions
Beat the whole egg for 30 seconds.

Add milk, cinnamon and agave syrup. Keep stirring until the ingredients combine.

In the large pan melt butter on medium-low heat.

Soak the bread in the egg-milk-honey mixture from both sides and fry it immediately from both sides 3-4 minutes or until golden brown.

Serve with powdered sugar or cinnamon on the top and sauce of your choice on the side.