German Bread Dumplings are prefect and quick weeknight dinner. Those little bowls go extreamly well not only with meat but also with vegetarian sauces – like mushroom sauce. You can make those ahead of time or freeze them for later. So if you have some old bread rolls, egg and onion go ahead and check this recipe right now!
Bread Dumplings are very popular in Southern Germany, Austria and Czech Republic. The recipe below comes from Southern Germany.
Bread Dumplings don't remind me of home, at home, we don't eat those. But they do remind me of all the family holidays that we spend in the German and Austrian Alps. After long hikes we would go out for dinner and enjoy all kinds of German and Austrian bread dumplings: the classic bread dumplings, the spinach bread dumplings, the bacon bread dumplings and the cheese bread dumplings. Those are serious treat and only found in the German restaurants in the south.
Tips & Best Practises
For smoother consistency cut the dumplings into smaller cubes.
For forming use wet hands, so the dough doesn't stick to them so easily.
My favorite way of eating bread dumplings is to eat them creamy mushroom sauce. But let's be honest, they go well with any saucy dishes.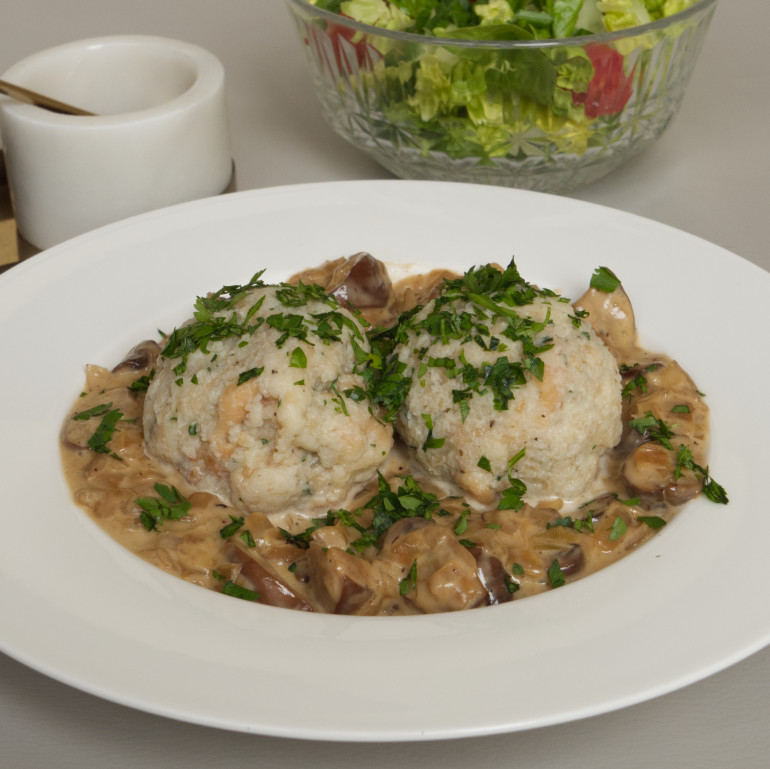 Storage
Fridge
Store in the fridge for up to 3 days. Then heat it up in hot water for 15 minutes.
Freezer
Store in the freezer for up to 6 months. Then heat them up in hot water for 25 minutes.
Related recipes
Traditional Austrian Spinach Bread Dumplings – Spinatknödel
Traditional Austrian Bacon Bread Dumplings – Speckknödel
Recipe
Traditional German Bread Dumplings
From the recipe below you will get 8 medium size bread dumplings (2 dumplings per person as a side dish). Bread dumplings go really well with all saucy dishes like German Beef Rolls, German Goulash or Sauerbraten.
Ingredients
1

small onion

5

g

butter

150

ml

milk

2

eggs

1

tbsp

parsley

salt

pepper
Instructions
Fry chopped onion on butter on medium heat for 3-5 minutes.

Preheat the milk in a small pot and turn off the heat just before it starts boiling.

Cut bread rolls into small cubes. Place them in a medium mixing bowl. Pour the warm milk over the bread roll cubes evenly and let the mixture rest for 10 minutes. You don't need to stir it.

In a small mixing bowl whisk together eggs with salt, pepper, and parsley.

Add the onion and the egg mixture to the bread roll cubes and knead them until the mixtures combine.

Form the dumplings, tennis ball size. I formed 8 dumplings.

Take a large pot and bring at least 3 liters of salty water to a boil. Place the dumplings in the water and let them simmer over low heat (I am using 2 out of 10) for 15-20 minutes without a lid.

Serve with warm as a side dish or with a creamy mushroom sauce as a vegetarian dish.
Notes
The German Bread Dumplings freeze very well. I would suggest freezing them after cooking in an airtight plastic bag.