Duck breast with cherry sauce is a very elegant and easy meal to make for a dinner. To accompany this dish you can use mash potato or cooked rice. The breast and the sauce are already a highlight, so I wouldn't go overboard with the side dish.
I love Christmas time in Germany. The Christmas Market is open and the families meet each weekend to share a festive meal together. Still with the year ending each of us has things to finish up before the celebration time comes. This recipe is exactly for this time of a year: tasty, elegant and done under 30 minutes!
To prepare the Duck Breast with Cherry Sauce you need to follow simple steps. The duck breast will be fried by using iron pan and because of that, it is nice and crispy from outside. We like our duck breast to be medium from inside and the best way to achieve this is to check the temperature of it in the oven. Here is the temperature that you are looking for:
For medium, you need: 140°F (60°C)
For well-done: 155°F (68°F)
For video, please click here:
The written recipe you will find down below.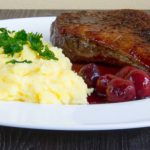 Duck Breast in Cherry Sauce
Ingredients
2

duck breasts

100

ml

Porto

100

ml

cherry juice

4

Tbsp

sour cherries

200

ml

chicken fond

1

tsp

lemon juice

1

Tbsp

sugar

salt and pepper

6

Tbsp

mash potatoes

to serve
Instructions
Preheat the oven to 100 degrees Celcius.

Wash the duck breast, dry and incise the skin crosswise (see the youtube video).

Salt and pepper the skin of the breast.

Place the duck breast in the cold pan with the skin side.

Fry for 5 minutes. Turn around and fry for another 5 minutes

Place the breasts in the oven and let it rest while you prepare the sauce
Sauce
To the same pan add cherry juice and Porto and reduce it for 3-5 minutes.

Add sugar and wait until the sauce thickens. Add the cherries.

Serve with mash potatoes!
If you are looking for other festive recipes I would recommend you to check this Traditional German Roasted Goose Recipe out! It is as simple to make as this one and also very delicious.