I ate this dish for the first time in Germany, and I loved it. Apparently, it is very famous here (if this is not true, please let me know). But what does it actually mean? Meunière is a typical method of preparation of big fishes. To cook something à la meunière says to prepare it by first dredging it in flour. The word itself means "miller's wife".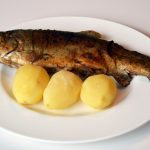 Trout Meunière
Ingredients
2

trouts

50

g

flour

25

g

lard

20

g

butter

fresh herbs

salt & pepper
Instructions
Preheat the oven to 150 degrees.

Season trouts with salt and pepper from outside and inside.

Place freh herbs inside the fishes.

Dab the fishes dry, roll them in flour and place them directly on the frying pan with hot lard.

Fry the trouts for 2-3 min on each side until braun.

Place the butter on the top of every fish and cover them with foil.

Allow the fishes to rest in the oven for about 10 minutes.

Serve with cooked potatoes.