Let's take 1 hour of your precious time to make this delicious German Red Cabbage that will bring your childhood memories back!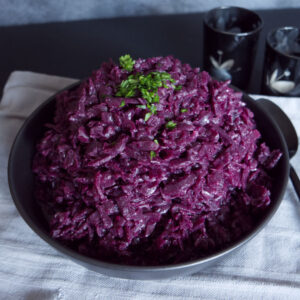 Traditional German Red Cabbage with Apples
Red Cabbage with Apples is a traditional side dish in many German recipes. Here in Germany, we love eating it with Beef Rolls, Sausaerbraten, and with almost anything at Christmas time!
Ingredients
2

kg

red cabbage

100

g

clarified butter or lard

2

onions

4

apples

2

tbsp

brown sugar

4

tbsp

vinegar

500

ml

apple juice

1

bay leave

4

cloves

1

cinnamon stick

salt
Instructions
Prepare the cabbage
Wash and remove the outer leaves. Cut into quarters and grate. For grating, I recommend using a food processor. It saves a lot of time!

Wash the apples, tap them dry, peel and remove not edible parts. Cut them into cubes.

Peel and chop the onions.
Cook the cabbage
Take the pressure cooker (or any large pot that you will be using) and melt the clarified butter or lard in it. Add the onions and apples and fry until the onions are translucent.

Add grated red cabbage and fry for another minute.

Pour the apple juice all over the cabbage. Add the vinegar and the spices (bay leaf, cloves, cinnamon stick).

Cook for 20 minutes under pressure or for 40 minutes with a lid on.

Season with sugar and salt!
Red Cabbage, lots of it – I like to use a big red cabbage to make this tasty side dish. I cook once and freeze the rest to have it on my hands all winter long!
Clarified Butter or Lard – It really doesn't matter which one you use, both bring amazing flavor to this side dish.
Onions – Medium once, please!
Apples – Sour apples would do.
Brown Sugar – You can use both brown or white sugar. Keep in mind that the brown one has a more distinctive flavor.
Vinegar – I use either apple vinegar or white wine vinegar.
Apple Juice – I use juice with 100% fruit content without any additional sugar.
Bay Leaf – I use the dried one.
Cloves and Cinnamon – I use whole cloves and cinnamon sticks. If you don't have those on hand try adding 1/4 tea spoon of each to the cabbage before cooking, and a little bit more, if needed, after cooking.
Red Cabbage with Apples is a side dish served warm and it goes incredibly well with all stews and roasts. I love serving it with Traditional German Beef Rolls, Traditional German Sour Roast, German Goulash, Traditional German Roasted Duck Legs or Traditional German Roasted Goose.
If your red cabbage is very moist, serve it in a separate bowl.
How long does the Red Cabbage last?
You can store cooked red cabbage for up to 3 days in the fridge, and up to 6 months in the fridge. So yes, if you cook enough, it will last the whole winter season. Yeah!
Haven't you finished eating your red cabbage? That's great news! Leftover red cabbage is even better than the one that you served just right after cooking. Cooling and reheating this particular dish improves its flavor significantly.
Traditional German Beef Rolls
Those German Beef Rolls on one hand always impress the guest on the other are so easy to make and store. If you like your Beef Roll saucy and tender - this is a recipe for you!
Check out this recipe
Traditional German Potato Dumplings
Here I am sharing my favorite German potato dumpling recipe made from cooked jacket potatoes. If you like to peel your potatoes before cooking, that's ok!
Check out this recipe
Classic German Roast Gravy
In this recipe, I will show you how to make a very quick and easy roast gravy. If you want to use this gravy without adding drippings I would strongly recommend to add cream to it and season it. You can use this recipe for any kind of traditional German meat dish, from Beef Rolls to Schnitzel.
Check out this recipe