Wild garlic is one of the most delicious plants. It looks so innocent, but I swear you have never had something so flavourful in your mouth. If you like robust, aromatic and extraordinary dishes, Wild Garlic Pesto Pasta would be something worth trying.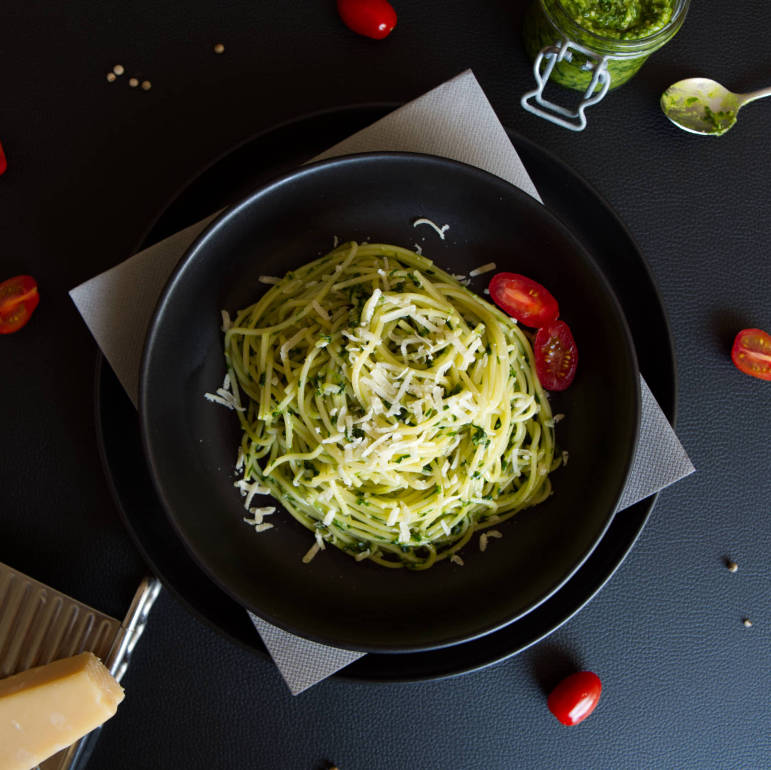 If you have been reading my blog for awhile, you know how much I love using seasonal and regional products when cooking. This is one of the reasons why traditional cuisine is so important to me – eating seasonal and regional products not only help the local economy but also with global warming.
Wild garlic pesto – Health benefits
Wild garlic has a lot of health benefits, it lowers cholesterol and blood pressure, and that means that it reduces the risk of having a stroke or heart attack. It can also be used as a disinfectant, so there are plenty of reasons to use it in your cooking!
The first time when I tried wild garlic that was in a soup. I love hearty and stinky ingredients, and the soup didn't disappoint me. That was in a Franconian restaurant that has a chef who loves cooking with seasonal and regional ingredients. I fell in love with its taste immediately, and I knew that this wasn't the only dish I will cook with it. Now I have another reason to love spring even more than any other time of a year because it is a time of wild garlic!
Wild garlic pesto – Ingredients
To make wild garlic pesto, you actually are going to need fresh wild garlic leaves. But remember if you have a whole plant – the entire plant is eatable. You can add wild garlic flowers, for example to a salad, instead of using garlic. You can also eat the bulbs, but I recommend to leave them in the soil, so you can enjoy wild garlic also next year in the spring.
As mentioned above, wild garlic pesto is very strong in taste, therefore, in my variation, it contains a lot of parmesan. The amount of parmesan I use depends on how strong the taste of wild garlic is. While making the pesto, you should try it on the go and see if the amount of parmesan is right or you want it to taste a bit milder. If that's the case, you should add more parmesan. Also, for this pesto, I use mild olive oil. For me, the spicy olive oils go better with salads. Pine nuts complete the dish perfectly.
The best ways to serve wild garlic pesto is either with a portion of pasta, as mentioned in the recipe below and Tarte flambe – so the German/French Flammkuchen. Recently I made one with crème fraîche, red paprika and wild garlic pesto and this has become my favourite topping of all!
To ensure that the wild garlic pesto pasta turns out delicious, please make sure that you:
– mixed all ingredients to a smooth paste
– combine the warm pasta with pesto in a cold dish (plate or bowl) – if you do it in the pot where you cooked your pasta, the cheese will melt and stick to the dish.
Those re the biggest challenges! We can conquer it together!
Fresh wild garlic can be stored in an airtight container in the fridge up to 2 days. To make it stay a bit longer, you can take a box filled with water and soak the leaves in it. You can also freeze wild garlic leaves if you wish.
Why I love it so much?
– it gives a real kick!
– easy to make and store!
More Wild Garlic Recipes:
Wild Garlic Soup
More Seasonal Spring Recipes:
White Asparagus Salad with Ham and Egg
Creamy White Asparagus Soup
White Asparagus and Strawberry Soup
Wild garlic pesto – Recipe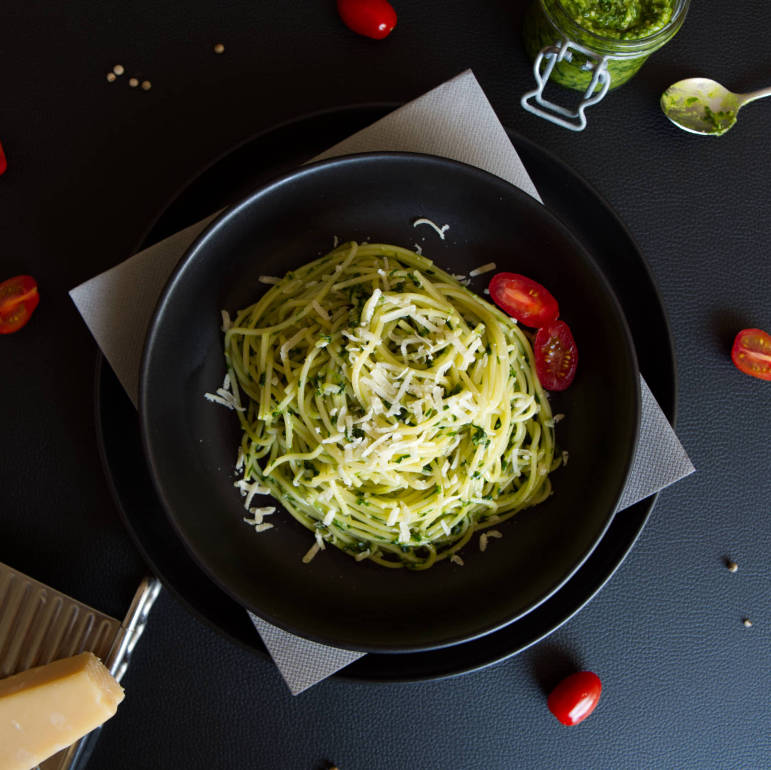 Wild Garlic Pesto Pasta
Easy step by step wild garlic pesto recipe.
Ingredients
Wild Garlic Pesto
200

g

wild garlic

fresh

30

g

pine nuts

50-100

g

parmesan

depends on how strong the wild garlic is!

150

ml

olive oil

salt
Instructions
Take a medium pot, fill it with water and bring it to boil.

Cook pasta according to instructions on the package.

To make the pesto I am using a blender. Blend together wild garlic, pine nuts, parmesan, olive oil and salt. Try the mixture. If it's too thick add more olive oil, if it's too strong for your tasting add more parmesan.

Drain the noodles and divide them into portions. For each plate, I use at least 2 tablespoons of pesto!

Make sure you are not mixing pesto and noodles in a warm pot, because parmesan will stick to it, and you don't want that to happen;)
Recipe Notes
Wild Garlic pesto has a very strong garlic taste therefore I wouldn't recommend eating the pesto beofre any important meetings;)