In this recipe, I will show you how to make traditional German Creamed Spinach. And I will make this promise at the beginning – you will never want to eat spinach differently. The cream can take cooking to the next level and your tastebuds to heaven. And this is what we will discuss today.
I need to admit that creamed spinach was a side that we always bought frozen and ready to eat. It was one of those dishes that you prepare if you didn't do grocery shopping but still want to eat something without leaving home. I have never liked this side dish, although I couldn't figure out why. It was just way too bland for me.
That was when one of my subscribers, Stefanie, wrote in the comments that she would love to cook that one day. And then I thought: Oh my, I will need to find a delicious recipe for this. And I found something that sounded delicious on Chefkoch. I had to adapt the recipe a bit because I like the spinach to be thicker and flavourful; therefore, I added a bit more flour and spices to my spinach.
To ensure that the traditional German creamed spinach turns out as good as the photo you need to make sure:
you season it well
you thicken it, so it has an even creamier consistency. This way is also easier to eat.
As soon as you get those right, you are going to be more than satisfied!
Ingredients, Taste & Texture
For this recipe, because of the time issue, I grabbed local organic frozen spinach. But if you would like to use a fresh one, make sure that you rinse it well and dry it before cooking. Also very crucial in this recipe is the cream, that gives spinach extraordinary flavour and flour, that thickens it. To make the spinach taste even better you will need to season it well with salt, pepper and nutmeg. If you still feel, that something is missing, you can add a teaspoon of instant vegetable broth to it. I never use it, though.
The best way to serve traditional German creamed spinach is with simply mash potatoes and a fried egg. I feel that creamed spinach is already a highlight so you don's need meat with it. Trust me, you won't miss it. We like keeping things simple, and this is one of the ways. Let the creamed spinach shine!
Why I love it so much?
– it goes well with any potato dish, and you know how much we love potatoes here in Germany!
Equipment I used:
– Fissler Sauce Pan
– nutmeg grater
If you are looking more German recipes I would love to encourage you to scroll through the rest of goodies here.
Did you like our tips? Pin this post to your Pinterest Board to come back to it later!
Traditional German Creamed Spinach Recipe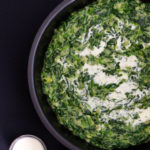 German Creamed Spinach
Easy & extremely delicious traditional German spinach side dish.
Ingredients
500

g

spinach

frozen, I use local organic spinach

1

onion

150

ml

cream

1

tbsp

butter

2

tbsp

flour

salt & pepper

nutmeg

water
Instructions
Preheat the pan over medium heat. Add butter and let it melt.

In the meantime peel and chop the onion.

Fry the onion on medium heat until translucent. Add frozen spinach. Wait until it melts.

Dissolve the flour in few tablespoons of cold water. I like my spinach to be thick therefore I use a bit more flour than in the traditional recipe.

Add cream and flour-water mixture to the spinach. Wait until it starts boiling.

Season with salt, pepper and fresh nutmeg.
So, now I finally shared my favourite spinach recipe. Do you like spinach at all? What is your favourite way to prepare your spinach? Please share your recipes in the comments down below!