Welcome to Cooking the World
Have fun exploring our traditional recipes from all over the world!
Here we share the recipes that have been around for decades and even centuries. Those are dishes are passed on through generations and are an inseparable part of the culture.
Let us show you exciting dishes and their recipes not only from our home but also from countries that we have visited.
Never miss a recipe.
Subscribe to our monthly newsletter!
THE BEST FROM OUR YOUTUBE CHANNEL
THE MOST POPULAR CATEGORIES
Germany
Raclette is a Swiss cheese that is very popular here in Germany in the wintertime. Some Germans like serving German Raclette either for Christmas or New Year's Eve because it is such a delicious and simple meal.
Read More »
Poland
Croquettes are very popular in Poland and you can find them in every restaurant or takeaway shop that serves polish food. Polish Croquettes are thin, large pancakes filled either with meat or cabbage and mushrooms. The pancakes are coated with breadcrumbs and fried. The meat filling is exactly like we make it for another traditional
Read More »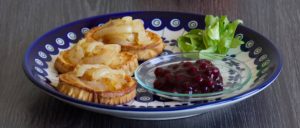 Poland
Pan-fried Oscypek is the starter to go for when you are visiting the capital of the Polish mountains – Zakopane. The strong taste of the cheese, fried onions and cranberries taste amazing together! I have known Oscypek since I was a child! Each time we were going for a hike in Tatra mountains with my
Read More »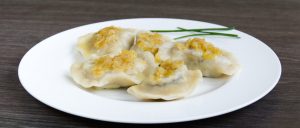 Poland
Dumplings with meat is one of the most popular Polish meals. Pierogi, because that is how they are called are very delicious and various. If I had to choose one dish that my mother had to cook for me when I am visiting, that would be Pierogi. Those small dumplings have very soft filling and
Read More »
Poland
Polish bean soup belongs to my favourite dishes from Poland because it is easy to prepare and very filling. There is not polish housewife that doesn't know it! My mother made it thick and almost creamy. She has been cooking it since I can remember, so it is comfort food for me. If I had
Read More »
Germany
German potato pancakes are one of the staple dishes to try at the German Christmas Market. At the Frankfurt Christmas Market, there are usually 3-4 vendors that serve those delicious deep-fried cakes. German Potato Pancakes On the internet and in numerous cookbooks you can find delicious traditional German potato pancake recipes. Authentic pancakes that we
Read More »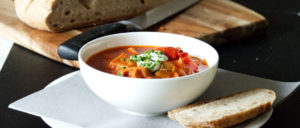 Germany
DDR-Style Solyanka Solyanka soup recipe was given to me by one of my best friends, who grow up in DDR – Stefanie. I love everything that is tart and rich, so I fell in love with it immediately. Stefanie explained that her mother would cook this dish when she didn't have a lot of time,
Read More »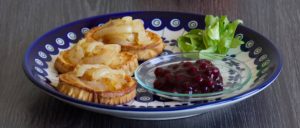 Poland
Pan-fried Oscypek is the starter to go for when you are visiting the capital of the Polish mountains – Zakopane. The strong taste of the cheese, fried onions and cranberries taste amazing together! I have known Oscypek since I was a child! Each time we were going for a hike in Tatra mountains with my
Read More »
Germany
Hate it or love it? This is very mysterious dish. When you see it on the menu and then you try to translate it there comes out probably "Hand cheese with music" which doesn't make any sense. Not if you don't know it!:-) Handkäse is a regional sour milk cheese which gets its name from
Read More »
Germany
When you want to know which white asparagus dish is the most popular in white asparagus season in Germany, that is the one: White Asparagus with Boiled Potatoes, Ham and Sauce Hollandaise. I love white asparagus season here in Germany. Every good restaurant always sells a few white asparagus dishes. Very popular are also Creamy
Read More »
Austria
In this recipe I would like to show you step-by-step how to make traditional Austrian Spinatknödel with Parmesan. Every year we spent our summer holidays in the German Alps in a region called Allgäu, right next to the German-Austrian border. We love to hike so each time we choose to climb one of the mountains
Read More »
Germany
Are you looking for an easy German Roasted Goose Recipe? You can stop searching! Below I would like to share with you how to make this crispy and tender bird with a few simple steps. How much goose should I buy per person? 2 people 1,5kg 3 people 2,5kg 4 people 3kg 5 people 4kg
Read More »
USA
Today I will be sharing with you a unique recipe and that makes me very excited! Traditionally beef topside here in Germany is served boiled with potatoes and sauces. My husband and I came to an idea to smoke it and guess what? The meat was delicious! We think that smoked beef is the most underrated piece
Read More »