Mixed Berry Shortcake is one of my favourite cakes for summer – it is light, has wonderful flavours and it's seasonal. I grew up in a house with a big garden; therefore, my summer always had a unique taste. I loved how my brother and I would go to the garden and pick fruits and berries straight from the trees or bushes. Half of the space of our yard was covered with vegetables, the other half with my favourite berries of all: strawberries & raspberries!
The only person who was entitled to pick the berries was my grandmother. Probably because she could eat them straight from the bush. If there were some berries for us left (there always were;)), my mother used to make different desserts. Our favourite once where cocktails with berries and fresh sour milk or just strawberries with sour cream and sugar.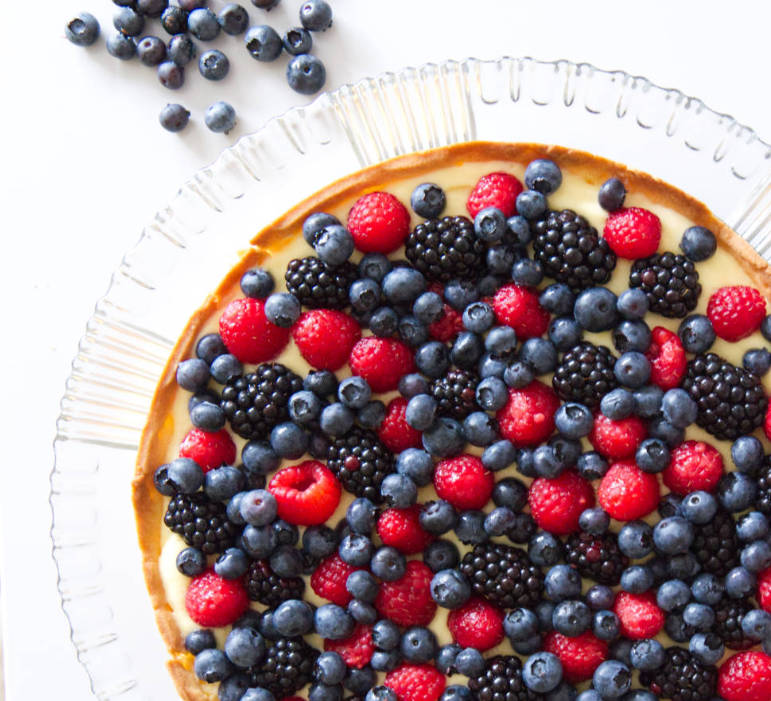 Seasonal ingredients
Now when we buy berries from our farmers market, they taste like my childhood. It is a luxury that I will never take for granted. The recipe that I would like to share with you today is a combination of two excellent substitutes: shortcrust pastry, vanilla custard and strawberries. In Germany, we usually make fruit or berry cakes with a layer of fruits/berries and a layer of dough underneath. Then we top it with whipped cream. In this recipe, I will be preparing 3 layers. I feel that some vanilla custard or cream between strawberries and cake won't kill anybody!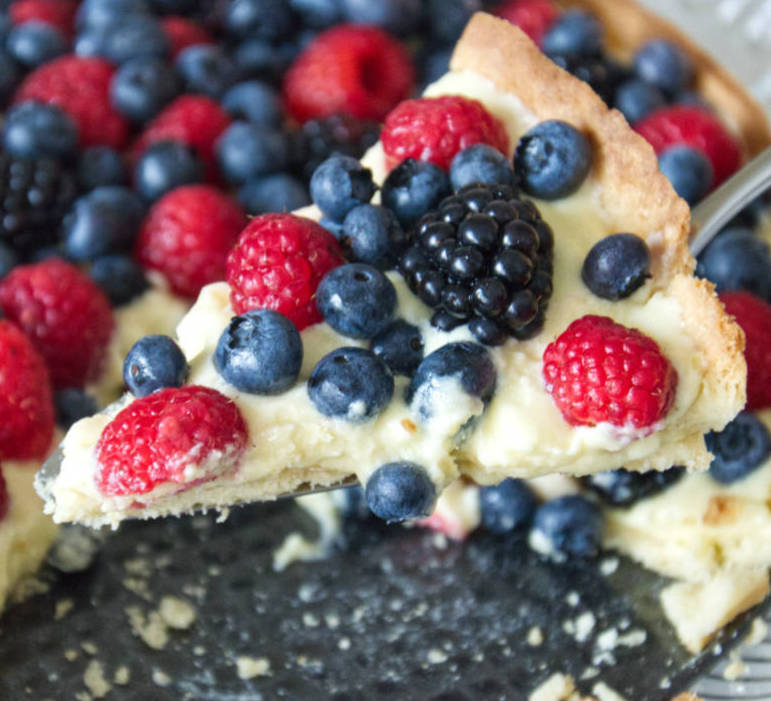 Shortcrust pastry is one of our favourite once because it has such great taste of butter. The crusty texture of the dough, delicate and creamy custard and sweet strawberries go so well together. I cannot imagine a better combination of ingredients. Some people love to eat berries with chocolate, I instead mix them with vanilla custard or cream. This makes it taste like heaven. Do you want a piece of paradise? Try it!
Traditional German Mixed Berry Shortcake
Ingredients
Dough
120

g

butter

50

g

powdered sugar

200

g

flour

all purpose, siefed

2

egg yolk
Topping
1

Paradies Creme

vanilla

450

g

mixed berries

strawberries, raspberries, bilberries
Instructions
Make the dough
Take a large bowl and kneat together butter, powdered sugar and egg yolks.

After all igredients are well combined, add siefed flour and mix the dough using a spatula.

Make a ball out of the dough (it is easier when you have wet hands for that!), wrap it in the cling film and let it rest in the fridge for at least one hour.
Bake the cake
Preheat the oven to 190 degrees.

Butter the tin and spead the dough evenly at the bottom. Form 1cm edge with the dough.

Take a fork and make some small wholes in the dough before baking.

Bake the cake for 15 minutes or until golden.

Let the cake to cool down before you add the toppings.
Prepare the toppings
Prepare Paradiese Creme following the instructions on the package.

Wash the berries, let them drain, remove the green cups and cut, if needed.
Finish the cake
As soon as the dough cooled down spread evenly Creme Paradiese. Top with berries and enjoy it!

Keep the cake for not longer then 3 days in the frigde.