In this recipe, I will show you how to make traditional German Stuffed Cabbage Rolls. We aim for very well seasoned and fluffy filling as well as extra tasty, braised cabbage leaves. Does this sound like something you would like to make? If yes – keep on reading!
Although cabbage rolls are popular in whole Europe and West Asia still, every country seems to have its own traditional way of serving them. Here in Germany we stuff them with very well seasoned minced meat and serve them with delicious mash potatoes and roast sauce (with or without the cream).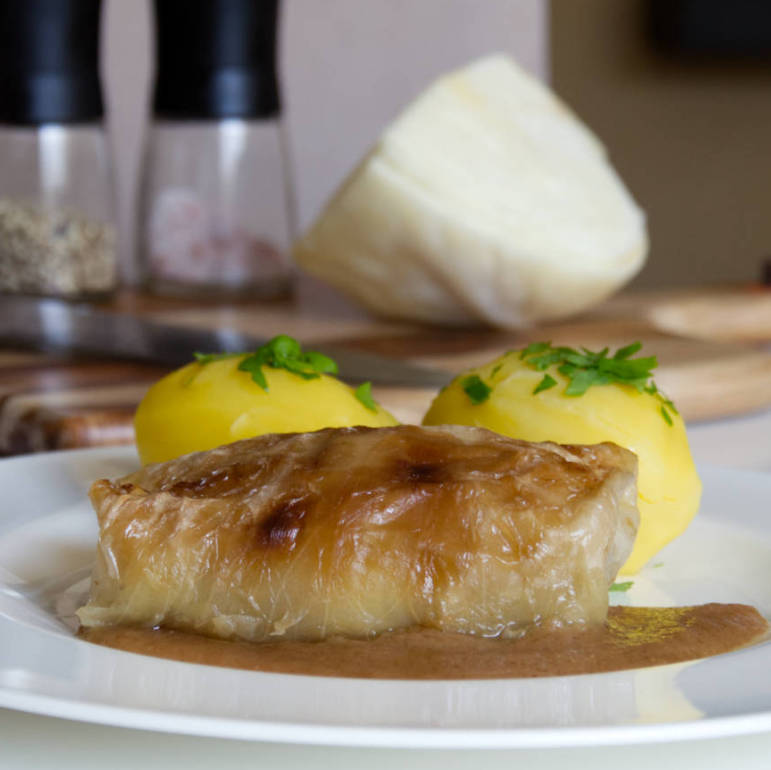 Cooking with filled leaves came to Europe from the Byzantine Empire, where people used to stuff vine leaves with different ingredients. In Northern Europe, especially in winter, cabbage was a vegetable that contained a lot of vitamins; therefore, it had a lot of health benefits. Apart from white cabbage in Germany very popular are rolls made with savoy cabbage.
To ensure that the cabbage rolls turn out as good as the one my grandmother made, please make sure that you:
– season the stuffing well
– don't forget to add a bit of cream to the sauce, it really makes a difference!:)
German Stuffed Cabbage Rolls – Ingredients, Taste & Texture
Here in Germany, there is really only one traditional recipe for stuffed cabbage roll. German stuffed cabbage rolls are filled with minced meat, are braised. Have you ever had braised cabbage leaves? Sometimes I use two leaves instead of one for each roll because I love them so much!
I will be honest – there are so many ways to braise the cabbage in Germany, but no other way make the cabbage leaves taste so good as the one below. I think that the meat really gives them this unique aroma that I love it to the moon and back.
I like when my German Cabbage Stuffed Rolls are fluffy from inside; therefore, I add at least one bread roll to my stuffing. I soak the bread roll in the water previously, to make it softer and easier to mix with the meat. This trick doesn't change the taste of the bread roll, but it changes its consistency diametrally. You also want to make sure that you season your stuffing well, you want your rolls to be flavourful!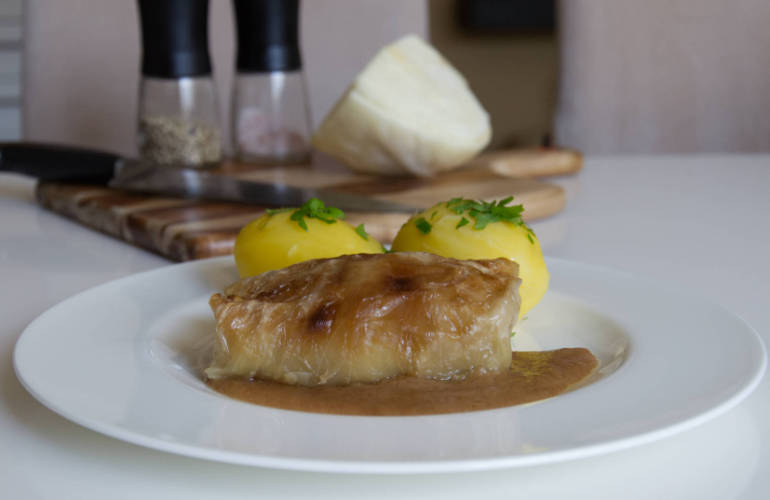 I have eaten plenty of different cabbage rolls in my life while travelling to other countries. Still, I think that the German version really beats them all. I don't know what makes it so unique. Is it the roast sauce or the taste of the braised cabbage? Whatever it is – it works really well. Each time, when I want to try a new cabbage roll recipe, I end up cooking the traditional German Stuffed Rolls anyway.
On my blog, you can also find Polish stuffed cabbage recipe. Those are filled with minced meat, rice and some spices and served with tomato sauce. So if you feel like trying something different, go ahead and visit the Polish Stuffed Cabbage Rolls Recipe.
Have you ever made Stuffed Cabbage Rolls before? If yes, please share the variation you made in the comments down below. If no, let me know what is holding you back?
Why I love it so much?
– they remind me of my childhood
Equipment I used:
– chopping board
– sharp knife
– pot
More One-Pot Recipes:
Traditional German Lentil Soup
German Green Bean Soup
German Stuffed Cabbage Rolls Recipe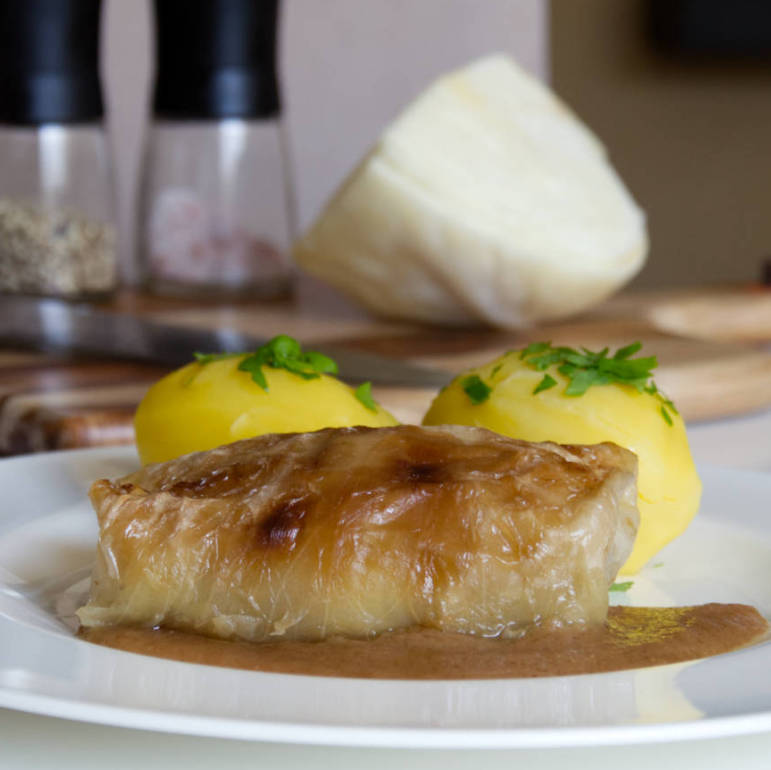 Traditional German Cabbage Rolls
Step by step guide on how to make traditional German Cabbage Rolls.
Ingredients
1

white cabbage

small

1

kg

ground pork & beef

2

eggs

1

bread roll

2

tbsp

mustard

2

tbsp

majoram

salt & pepper

500

ml

beef broth

oil and butter for frying
Brown Sauce
30

g

butter

30

g

flour

beef broth

100

ml

cream

optional

mash potatoes

for serving
Instructions
Prepare the white cabbage – First way
Take a large pot and heat up around 3l water. Wait until it starts boiling.

In the meantime throw away the outside leaves of the cabbage.

Carefully peel off 10 cabbage leaves.

As soon as the water in the pot starts boiling place the cabbage leaves in the water and blanch for 2 minutes. The leave should soften a bit, especially near the stem area. Drain the leaves on the paper towel and set aside.
Prepare the cabbage – Second way
Peel off and throw away the outside leaves of the cabbage.

Cut the cabbage stem out.

Place cabbage in a large pot and cover almost all of it with water.

Bring it to boil and simmer for about 10 minutes.

But using cooking tongs take out the outer leaves of the cabbage and drain them, if they don't come easily, leave the cabbage in water for another few minutes.

When you have gathered enough leaves make use you drain them and set aside. Also, don't forget to the rest of the cabbage out of the pot.
Prepare the filling
Take a small bowl and place the bread roll in it. Cover with cold water and leave it for few minutes. You want the bread roll to soak the water and become softer.

In a large bowl mix together ground meat, mustard, marjoram, salt and pepper.

Take out and sqeeze the water from the bread roll. Add to the mixture.

Try the mixture and correct seasoning. You want your filling to be strong in flavour.

As soon as you are happy with the taste of the filling add the egg and mix well.
Assemble the rolls
Place the leave with the stem pointing your direction.

Take a handful of the mixture and place it at the bottom of the leave.

Fold the sides of the leaf and roll it (see the video). Set aside.
Cook the cabbage rolls
Preheat the oven to 180°C or 350°F.

Take our roaster and heat up oil mixed with butter (i use it for taste) to medium-high heat.

Fry the rolls from all sides until the leaves get slightly brown.

Fill the roaster with beef broth. Cover it with a lid and roast for 25 minutes.
Prepare the sauce
From butter and flour make the brown roux by creating a smooth paste from butter and flour. To do that melt the butter in a medium pot on medium heat and add the flour. Take a cooking spoon and combine them.

Lower the heat and cook for about 5 minutes or until the roux turns brown. The careful with the heat!

By this time your cabbage rolls should be ready. In this case, take them out of the oven and pour 3 ladles of broth to your roux and stir vigorously with egg beater for a minute or two. If you are happy with the consistency to add the cream, like the season it with salt and pepper. If the sauce is too thick add another ladle of broth to the sauce and stir it again.

Well done! Now you can enjoy your cabbage rolls! So go ahead and serve with mash potatoes and sauce on the top.
Did you like our tips? Pin this post to your Pinterest Board to come back to it later!