German lentil soup is one of those dishes that I cook regularly, and it's not only because I love traditional German food! The soup is simple to make, it freezes well, and the most important – it's finger-licking! If your agenda is full, it's just a perfect dish for you to make.
To prepare this lentil soup, I used brown lentils because they keep their shape after being cooked. Don't worry if you have a different kind of lentils. The soup will turn a little mushy, but still appetising!
This recipe involves a lot of chopping, so if you are ready, turn the music on and let's give it a go! I would also like to encourage you to focus your attention on the ingredients you are chopping. Recently I have been learning how to live in the moment, and I enjoy touching the food. Depending on mood, I also enjoy cooking in quiet. Do as you like, and remember – cooking is a blessing. Even when sometimes you feel like order meal machine. It will be your meal, and only you will decide how it is gonna taste.
Is lentil soup healthy?
Traditional German lentil soup is exceptionally healthy. Lentils contain proteins and fibre, celery root minerals, vitamins B & E and help with digestion. Leek is anti-inflammatory, helps with digestion and improves kidney function. Carrots contain beta-carotene, and parsley root vitamins A, B and C. Parsley leaves not only tastes good but are reach in vitamins C and E as well as iron and calcium. The soup doesn't contain a lot of fat (this bit of bacon haven't heard anybody!).
How to season lentil soup?
In Germany traditionally we season lentil soup with white wine vinegar, salt, pepper and sugar. You can also add some nutmeg or cumin. But only if you feel like the dish is missing something! Lentil soup doesn't need much seasoning.
How long does the lentil soup last?
You can store lentil soup up to 3 days in the fridge or 3 months in the refrigerator. But please don't forget that you put it there!
Traditional German Lentil Soup in Frankfurt is served with cooked Frankfurter. Frankfurt Sausage has to be cooked separately in a pot of warm, salted water. Since the soup contains potatoes, we don't eat bread with it.
Why I love it so much?
– supports weight loss
– it's rapid to prepare: active time: 25 minutes.
– as one-pot dish = less dishwashing!
Equipment I used:
– chopping boards
– sharp knife
– pressure cooker
More German Recipes:
Stuffed Beef Rolls with Apricot Sauce
German Curry Wurst Recipe
More One-Pot Recipes:
German Wild Garlic Soup
German Green Bean Soup
Polish Bean Soup Recipe
More Easy Recipes:
Swabian Potato Salad
German Poor Knights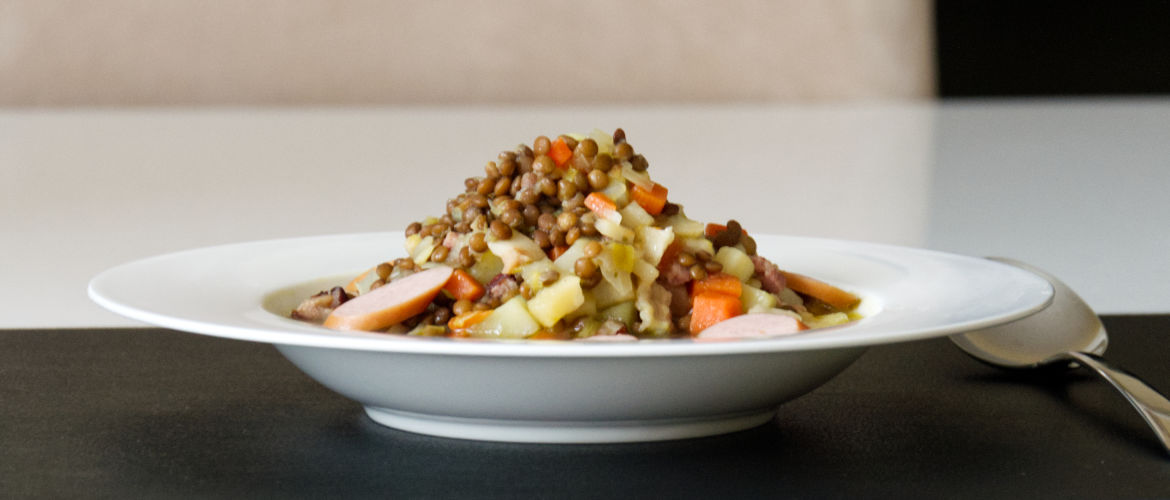 German Lentil Soup (with real Frankfurters)
Ingredients
3

tbsp

oil

sunflower

1

medium onion

or 100g

3

medium potatoes

or 300g

200

g

smoked bacon

3

medium carrots

or 200g

1/5

celery tuber

1

parsley root

small

200

g

lentils

(7 ounces), brown

1,5

l

vegetable broth

6 cups

3

tbsp

white wine vinegar

1

tbsp

white sugar

4

Frankfurter sausages

salt & pepper
Instructions
Take large pot and preheat the oil on medium heat.

Peel & chop the onions. Fry it with a bit of salt until golden brown.

In the meantime chop smoked bacon, add to to pot. Stir.

Dice: carrots, celery tuber, potatoes and parsley root. Add them to the pot and stir.

Add the lentils and cook for 20-30 minutes (depending in the lentils you use).

Heat up & slice Frankfurt sausage.

After the lentils and vegetables are tender season the soup with vinegar, sugar, salt and pepper.

Enjoy it hot with Frankfurt sausage!
Did you like our tips? Pin this post to your Pinterest Board to come back to it later! Please click here to visit our Pinterest Profile.